WATSONVILLE—Sisters-in-law Araceli Gonzalez and Laura Espindola first had the idea to open their own business more than two years ago. 
Both mothers with a passion for shopping, they wanted to open a shop full of products for young children and new (and expecting) mothers.
"We had been thinking about doing this for quite a while," Espindola said. "We would always talk about how fun it would be to open a children's boutique. We both love to shop for our kids."
The pair launched the Little Trends Children's Boutique online in late 2019. Since then, they have gained a following via social media and word of mouth, offering free delivery and gradually adding more suppliers and products as they go.
"Once the pandemic happened, which was obviously unexpected … at that point we thought, since we already started the process, let's just do it," Gonzalez said. "We promoted online. We started with our friends and families in town. They told their friends and it just continued … at this point, we already have a customer base of about 60 people."
On Friday, everything will come to fruition with the grand opening of Little Trends' first brick and mortar store on the bustling corner of Green Valley Road and Main Street. It will offer clothing for newborns, infants and toddlers, diaper bags and backpacks, shoes, bath items, books (English, Spanish and bilingual) and more. Products will range from more affordable brands to high-end, much of it natural or organic.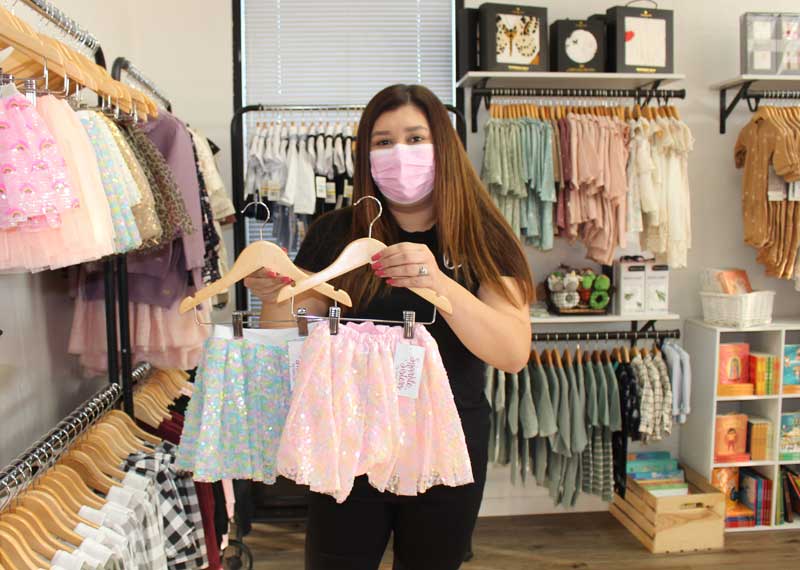 The shop will also supply postpartum care for new and expecting mothers, something that Espindola said was "very important" to them to include.
"When I was a new mom recently, I had to shop online to get things mailed to me from big companies or places over the hill in San Jose," she said. "When you're a new mom, you receive all these gifts for your baby … but you have no idea what you're going to need for yourselves. We want to be a place where new moms can come or call in and ask for advice."
Added Gonzalez: "Local parents don't have many options. We have Target, which is great for everyday essentials. But a lot of the time, for certain things … We end up driving all the way to Santa Cruz or Monterey."
Gonzalez said that finding reliable suppliers and products during the pandemic has been challenging. So they decided to focus on purchasing from companies along the West Coast.
"And we just decided to stay that way," she said. "Most of our products are from small shops, many of them women-owned."
Espindola and Gonzalez say they are excited and eager to serve the community of Watsonville, where they both were born and raised.
"Our families have been here for a long time," Espindola said. "We've actually known each other since middle school. It was very important for us to open something locally. We want our community to thrive. We're hoping we do well and are successful."
Little Trends Children's Boutique, 1052 Green Valley Rd., opens Friday. Weekly hours will be Wednesday-Sunday, 10:30am-6:30pm. The shop does not yet have a landline. For information and to contact visit their website or message on Instagram @littletrendsllc.