WATSONVILLE—About 200 people disembarked three large charter buses on Green Valley Road in Watsonville early Wednesday morning as part of the EcoFarm Bus Tour, a kickoff to the EcoFarm Conference in Pacific Grove this week.
The tour was visiting Strong Agronomy, a management company that has big aspirations of transforming the farming industry.
"You guys are going to be amazed about what's going on here," said tour organizer Sam Earnshaw to the gathered crowd. "You won't believe it."
Strong Agronomy was established five years ago and owns three smaller companies—Coastal Sun Cannabis, Coastal Moon Berry Farm and Coastal Star Nursery—on a historic piece of agricultural land.
"The lower section was designed for the apple industry," said president and CEO of Strong Agronomy Angus Mills. "Then it was used to produce cut flowers… which once boomed in this valley. There is a long, rich legacy of farming here."
Mills was working for a different company near the site when he noticed that the vacant farm was falling apart—not uncommon for old nurseries, as the U.S. cut flower industry has dwindled. He brought together like-minded individuals and "bootstrapped" what is now Strong Agronomy.
The company's goal is to use waste to produce energy for healthy crops—anywhere, in any situation.
"We want to find ways of growing healthy food in densely populated areas, during droughts, during wars, anything," Mills said. "It's about developing a localized food economy."
Their farms utilize both traditional growing methods and containerized planting. All of their products are certified organic.
"We combine traditional wisdom with all of the ag tech we now have at our disposal," Mills said. "We pull information from our production differently than any other agricultural environment."
This is on display at Coastal Star Nursery, where organic cannabis plants are being grown in a variety of different greenhouses, using water recycling systems, compositing regimens and more. In one greenhouse, a giant screen dashboard reads off data about every plant, monitoring environmental factors. This gives staff the ability to account for every drop of water or ounce of fertilizer that is used.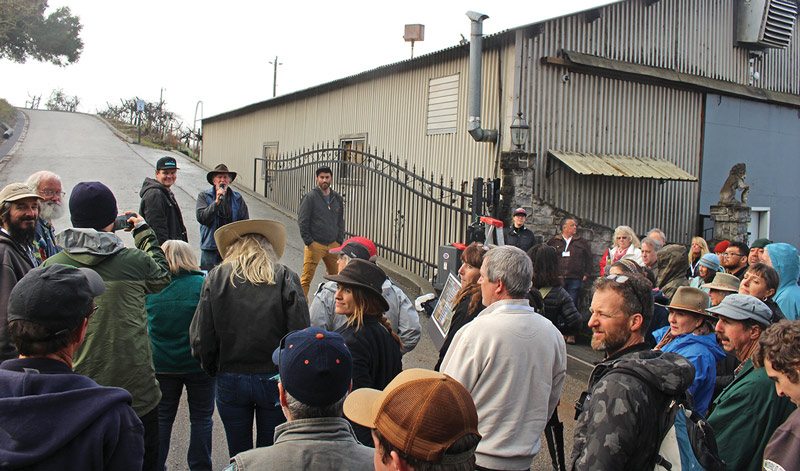 Site manager Elan Goldbart explained to EcoFarm guests how the farm is aiming for nutrient-based production.
"It's all about the soil," he said. "We are trying to maximize the nutritional value in the plants themselves."
For Mills, entering the cannabis industry has been both exciting and challenging. The industry is so new that there is plenty of room for growth and diversity, but an ingrained stigma of the crop remains.
"We grow our cannabis just like the other crops," Mills said. "It's funny to see people from ag come here and realize that. The stigma just melts away."
Coastal Sun Cannabis focuses primarily on producing medical-grade cannabis. They cultivate a certain percentage for the Wo/Men's Alliance for Medical Marijuana.
"There's a lot of misconceptions that we're making money hand-over-fist here," Mills said. "But it just doesn't work like that. We're putting everything we make right back into this facility."
The other side of production is Coastal Moon Berry Farm, where the company produces organic blueberries. The company continues to expand its fields down the back side of the property.
"With our blueberries, just like our cannabis, we aim to build a system based on science," Mills said. "This always leads to healthier, tastier fruit resistant to pests and climate change. It's about honing cultivation methods that work with nature."
Strong Agronomy's work, Mills said, attempts to push the organic farming industry forward.
"We admire everyone who's been involved with the organic food movement—especially groups like EcoFarm," he said. "But I do see some manipulation of the organic concept. That's why we are trying to reach out, make connections. With EcoFarm, with other local farmers, with the public."
And what is Mills' biggest hope? Nothing short of a global food revolution, he said.
"I believe passionately that we can change the world," he said. "Within our lifetimes, we could disrupt a multi-trillion dollar food economy, these huge conglomerates that manage the majority of our resources. We can once again be in touch with the things we are dependent on."
For information visit strong.ag.