For rapper and singer Kabwasa, staying connected to his hometown of Watsonville is a priority—even as he makes waves in the music scene in Los Angeles.
Raised in a house just off Rodriguez Street, Kabwasa was surrounded by music from an early age. He attended Watsonville Charter School of the Arts, which he said "fostered his creativity" and inspired him to keep up his dream of becoming a musician. There and at Watsonville High School, he took part in talent shows, school plays and more.
"I grew up in a community that taught me to appreciate music," Kabwasa said. "At home I was exposed to it before I could even talk—James Brown, Stevie Wonder… and gradually I developed a love of hip-hop."
Kabwasa started "messing around" on his computer in high school, uploading a couple of songs online. He eventually moved to Los Angeles after being accepted to the University of Southern California to study Anthropology. It was there, he said, that he began taking his music seriously.
Born Etienne Kabwasa Green, the singer said he decided to use his middle name onstage to keep him connected to his family history.
"It's my mom's maiden name," he said. "She was born in the [Democratic Republic of the] Congo. The name helps me stay connected to that. It reminds me that I'm pretty lucky, as an African American, to know exactly where I come from, because not a lot of us do."
Kabwasa describes his music as a fusion between hip-hop and R&B, mixing in some soul and funk. In his own words: "Old school beats with new school flows." As both a rapper and a singer, he said he tries to stay interesting but also as true to himself as possible.
"For instance, I've always had a higher voice… I used to hate it, but now I use it to my benefit—I embrace it," he said. "I figured out that a higher register really works with the kind of singing-rapping thing I do."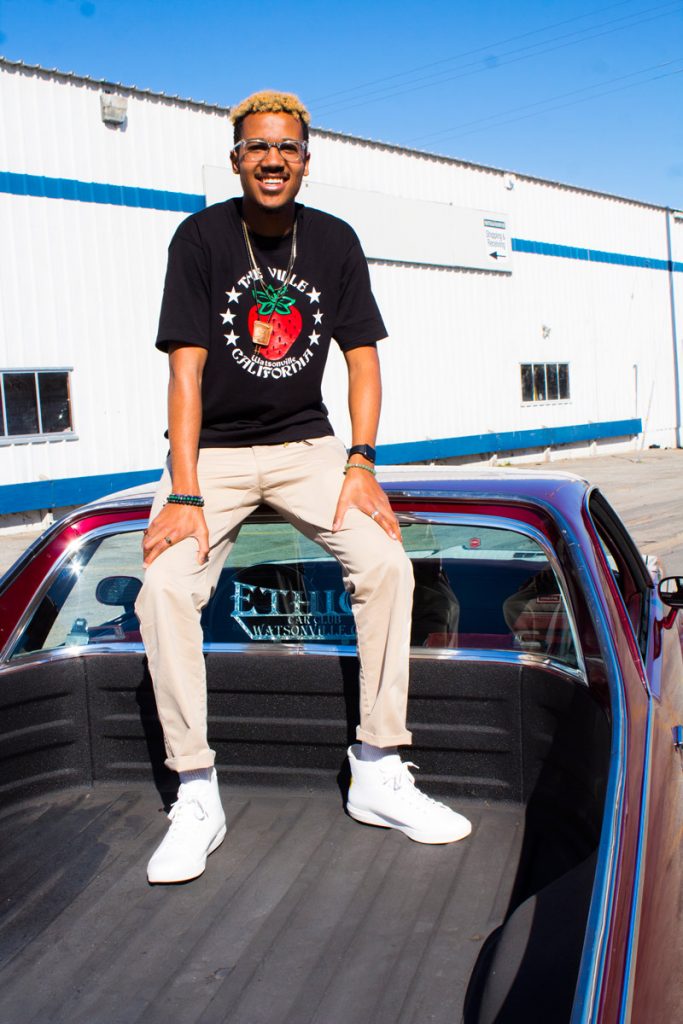 Kabwasa's lyrics continually hit on important social issues, primarily those he recognized growing up in Watsonville, such as income inequality and gentrification. In his song "Worker's Truth," he touches upon the plight of migrant farmworkers.
"I want to spread the truth of these people," he said. "I grew up witnessing them working so hard and getting so little. Now more than ever, with what we are going through politically in this country, it's so important to show support. Not to speak for them, but to speak with them."
Last week Kabwasa re-released two of his songs as a new EP entitled "Watsonville." The tracks "Watson" and "Ville" pay homage to the city he grew up in and still cares for deeply. Kabwasa has gained a small following in California that is steadily growing. He saw the EP as an opportunity to release his music in a more formal way.
"People seemed to enjoy the songs, but not many people knew who I was," he said. "This was a way to reintroduce people to these songs… and maybe find some new listeners too."
The singer has collaborated with Watsonville artists and groups to create four music videos. His video for "Worker's Truth" was produced at Digital Nest, and the other three were created with help from local director Angel Diaz. He also worked behind-the-scenes with Watsonville photographer Joey Rodriguez Ontiveros and local car clubs.
Kabwasa said his goal is to spread positivity through his music, and inspire people from his hometown to follow their passion.
"I didn't really think I could do it—and yet here I am," he said. "I want people in Watsonville, especially young people, to know that it is possible to pursue your creativity."
•
Kabwasa's music can be heard on various streaming platforms including Spotify, Apple Music, Amazon, Soundcloud and more. His videos can be viewed on YouTube. Follow him on Twitter @MusicByKabwasa.