St. Francis High senior Julian Vargas won the 2.93-mile H2Omelon Run in 15 minutes, 28 seconds at Pinto Lake County Park on Sept. 8.
Gilroy High's Nicholas Guzman (15:46) and Joshua Guzman (16:55) finished second and third, respectively, to help the Mustangs win the team title with 41 points.
Watsonville High senior Sebastian Abonce (17:59) placed sixth, helping the Wildcatz (58) place second. Rancho San Juan (63) was third, St. Francis (80) was fourth and Christopher (94) was fifth.
Scotts Valley, 19; Aptos, 60; Harbor, 61: The Falcons had eight top-10 finishers in the 2.93-mile SCCAL quad meet at Pinto Lake Park in Watsonville on Sept. 9.
Scotts Valley High senior Jeremy Kain, the two-time SCCAL champion, won in 15:43. Aptos junior Trent Nosky (15:49) took second and Falcons senior Ryder Brabo (16:04) was third.
Scotts Valley senior Austin George (16:31) placed fourth, followed by fellow teammates juniors Aiden Boothby (16:57) and Jonah Verinsky (17:00), senior Drew Bryson (17:19), sophomore Mason Lantz (17:30) and senior Evan Granados (17:38).
Mount Madonna junior Sam Kaplan placed 16th in 18:46.
Girls cross country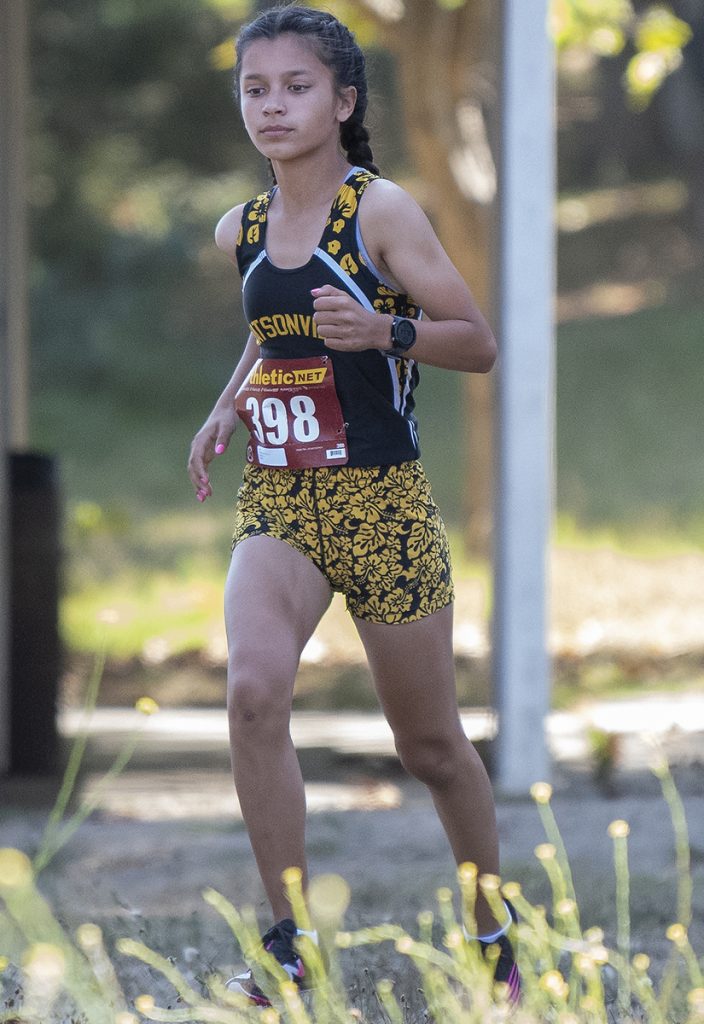 Ruiz wins H2Omelon Run: Watsonville High freshman Katelynn Ruiz won the 2.93-mile H2Omelon Run in 20:17 at Pinto Lake County Park on Sept. 8.
The Wildcatz posted a team score of 46 to finish second to champion Gilroy High (33). Rancho San Juan (58) placed third and Christopher (84) took fourth.
St. Francis High sophomore Monserrat Ramirez (21:08) took fourth.
Wildcatz juniors Edith Rodriguez (23:49), Ana Ruiz (23:50) and Alexa Pedraza (24:02) placed 10th through 12th, respectively.
Ceiba Prep School senior Aislinn Magana placed 20th in 25:41.
Scotts Valley, 22; Aptos, 35: Scotts Valley High posted six of the top-10 finishes and won the 2.93-mile, SCCAL meet at Pinto Lake Park in Watsonville on Sept. 9.
Scotts Valley sophomore Ashlyn Boothby, the defending SCCAL champion, won in 17:43. Her older sister, Amber, a junior, took second in 18:17, followed by Aptos High junior Brooke Willoughby (19:17) and sophomore Rachel Hoops (19:52), who placed third and fourth respectively. Mariners sophomore Malia Moreno (20:22) placed seventh.
Girls volleyball
Aptos 3, Mount Madonna 1: The Mariners have won two straight games after a 25-10, 21-25, 25-16, 25-20 win against the Hawks in SCCAL play.
Isabel Pfeiffer, a senior setter, finished with 11 aces and three errors on 32 attempts. She also had a personal season-high 19 assists and nine digs for the Mariners (2-3, 2-1), who play at Scotts Valley High on Thursday at 7pm.
"Izzy played her best game of the season so far, creating incredible pressure and opportunities for us from the service line," Aptos coach Hunter Zeng said in an email.
Aptos 3, San Lorenzo Valley 0: Kayley Batt, a junior, had six kills and four blocks in the Mariners' 25-17, 25-18, 25-18 win against the Cougars in league play on Sept. 9.
Sophomore Avi Boyd made 10 digs for the Mariners.
Girls water polo
Back-to-back tourney champs: The Aptos High girls' water polo team starts the season with a 7-0 overall record in tournament play after winning back-to-back tournaments.
The Mariners recently won a tournament they hosted Sept. 11 and they won the Central Valley Tournament in Clovis on Sept. 3 and 4, defeating teams such as Hanford Joint Union High School West, Madera, Paso Robles and Morro Bay.
Aptos is scheduled to play at Soquel on Sept. 21 at 7:30pm.
Reporting Scores
Coaches are encouraged to report scores and highlights at pajaronian.com/author/jreyes/.
You can also email Juan Reyes at [email protected] following games. Please include your name and contact information such as phone number and email address.