APTOS—Aptos High was considered to be one of the main contenders in the Santa Cruz Coast Athletic League, especially with a squad that featured some big-time names on the pitch.
A pair of those names include junior attacker Eddie Alvarez and sophomore midfielder Nami Banks, who seemed to be all over the pitch for the Mariners boys soccer team this season. 
Both of their efforts didn't go unnoticed by the coaches within the league.
Alvarez was awarded the Attacker of the Year, while Banks was named the Midfielder of the Year for the 2022-23 season.
Alvarez was a scoring threat anytime he stepped foot on the field and he proved it with a team-best 17 goals to go along with nine assists.
Aptos coach Roberto Zuñiga has been impressed with Alvarez's dedication to the sport and he's been improving over the past three seasons since joining the varsity team as a freshman.
"[Alvarez is] a hard worker, never complains, always dedicated and as focused as can be," Zuñiga said. "He's receptive to constructive criticism and I think that's so important of a player."
Alvarez started as an outside back and made the transition to lead attacker for the Mariners this season.
Zuñiga believes his standout striker deserves the recognition for all of his efforts on the pitch and his role as one of the leaders at Aptos.
Banks took over the No. 6 position–defensive center back–as a freshman and he hasn't let up since solidifying himself as the starter.
Zuñiga mentioned his star midfielder is critical of himself, which is a strong trait to have because it builds character.
"I really appreciate the fact that he's being self critical and at the same doing so to be a better player for his team," Zuñiga said.
Aptos sophomore goalkeeper Noah Curran, senior Nate Dow and junior Esteban García all earned All-SCCAL First Team honors, while fellow teammates junior Andrew Lopez, freshman Daniel Lozano and junior Kaleb Plascencia earned all-league second team honors.
Zuñiga will have a nice group of returning players for next season and that itself sets a good foundation for the future. He wants them to put in the same commitment just as much as the coaching staff, which helped the head skipper tremendously this season.
"They've been putting in a lot of work," Zuñiga said. "We tell them that it's dedication for the span of the season. It comes and goes really quickly."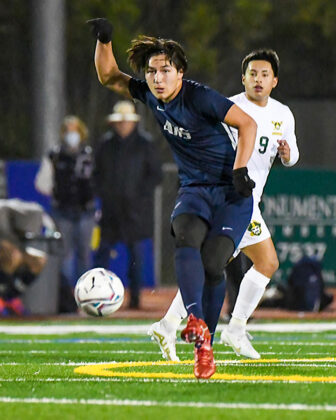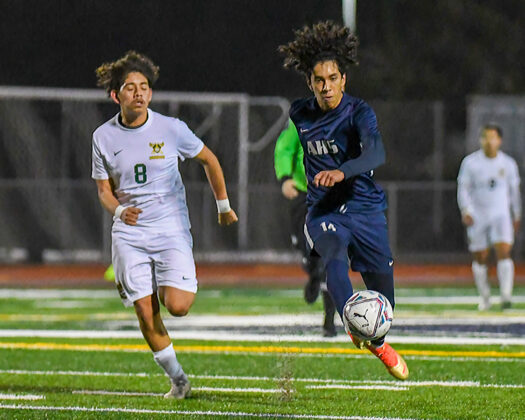 All-SCCAL Selections
Individual Awards
Most Valuable Player: Raúl Calles (Sr.), Harbor
Attacker of the Year: Eddie Alvarez (Jr.), Aptos
Midfielder of the Year: Nami Banks (So.), Aptos
Defender of the Year: Juan Lara (Jr.), Harbor
Goalkeeper of the Year: Damian Escalante (So.), Harbor
Coach of the Year: Michael Vahradian, Harbor
First Team
Noah Curran (So.), Aptos
Nate Dow (Sr.), Aptos
Esteban García (Jr.), Aptos
Alex Aparicio (So.), Harbor
Milan Behrens (Sr.), Harbor
Javier Calles (So.), Harbor
Alexis Madrid (Sr.), Harbor
Aiden Nounnan (Jr.), San Lorenzo Valley
River Hsu (Sr.), Santa Cruz
Andrew Redshaw (Sr.), Scotts Valley
Emilio Alfaro (Sr.), Soquel
Second Team
Andrew Lopez (Jr.), Aptos
Daniel Lozano (Fr.), Aptos
Kaleb Plascencia (Jr.), Aptos
Alexander Alvarado (Sr.), Harbor
Moises Hernandez (Fr.), Harbor
Brandon Jimenez (So.), Harbor
Gio Linares (Jr.), Harbor
Milo Carrington (Sr.), San Lorenzo Valley
Kai Tsukamaki (Sr.), Santa Cruz
Caleb Mendoza (Fr.), Scotts Valley
Hector Gonzalez (Sr.), Soquel
Honorable Mention
Carlos Gutierrez (Jr.), Aptos
Diego Tiran (Sr.), Aptos
Kai Walsh (Sr.), Aptos
Luis Gomez (Sr.), Harbor
Xavi Jacobson (Sr.), Harbor
Maury Martinez (Jr.), Harbor
Ryan Baker (Sr.), San Lorenzo Valley
Owen Garrahan (Jr.), San Lorenzo Valley
Shelby Monowitz (Sr.), San Lorenzo Valley
Jonah Goodman (Sr.), Santa Cruz
Juan Pina (Sr.), Santa Cruz
Kenny Sanchez (Sr.), Santa Cruz
Bradley Robertson (So.), Scotts Valley
Maksim Sacks (Sr.), Scotts Valley
Daniel Soriano (Sr.), Soquel
Brody Staley (Sr.), Soquel
David Welsh (Sr.), Soquel