WATSONVILLE—Monte Vista Chirstian School senior Mark Spohn came into this year's football season having to replace Brendan Doyle, last season's Santa Cruz Coast Athletic League A Division MVP.  
The first-year starting quarterback made quite the first impression Thursday night, passing for two touchdowns and sneaking his way in for another two to help lift the Mustangs in a season-opening 35-0 victory against North Monterey County.
Spohn completed 6-of-11 pass attempts for 123 yards. Five of his six completions went for gains of 20-plus yards, including the two touchdown passes.
"I felt good, it was a big improvement from the jamboree," he said. "I had good blocks, it felt smooth."
The only problem Spohn ran into was that the referees didn't allow him to use the ball he'd been using the entire summer practice. He was scrambling to find a ball that fit comfortably in his hand, which he said threw him off a bit to start the game.
"The sizing was different, some of my fingers were slipping. I didn't get quite the spiral, but we adjusted," he said.
Those adjustments came quite quickly. Spohn found himself scrambling toward the sideline but then he found junior tight end Lucas Lange wide open for a 30-yard touchdown just three minutes into the game.
On the ensuing kickoff, the Mustangs' special teams unit recovered an onside kick. Williams said they had a couple of kicks that went short but they weren't designed to go that way. Still, it was a great heads up play to jump on the loose ball.
"I would love to take credit for that but I can't," Williams said.
MVC put together a quick scoring drive that ended with Spohn scoring one of his two 1-yard quarterback keepers into the end zone.
In the second quarter, he connected with senior running back Will Mesa for a 23-yard touchdown that put the Mustangs ahead, 21-0, going into halftime.
The offense didn't let up in the second half as the Mustangs put together a scoring drive late in the third quarter.
Spohn crawled through the scrummage for his second rushing touchdown, which made the game 28-0. Mesa scored on a 7-yard run in the fourth quarter to cap the scoring, putting the game out of reach.
Mesa finished with 65 rushing yards on 11 carries and two receptions for 42 yards. His teammate Jamie Ledesma had 124 yards on nine carries and Aiden Keegan had 30 yards on six carries.
"All three of them, we can use anytime and mix plays with them," Spohn said.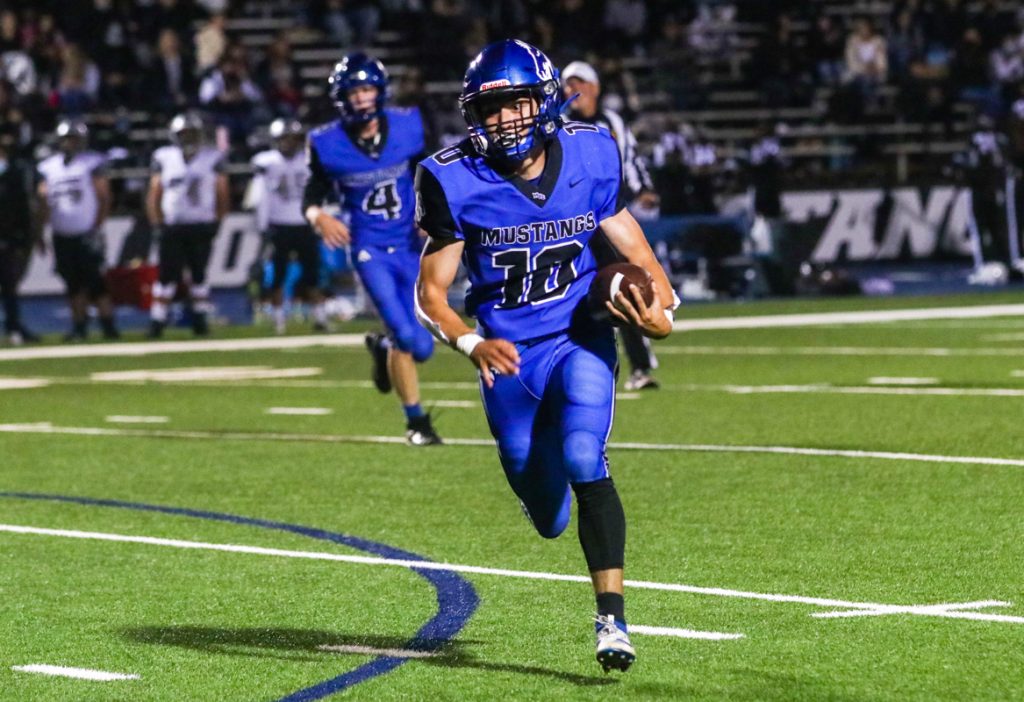 The biggest highlight for NMC came on a 48-yard run from senior running back Nico Torres late in the game. They were on the cusp of scoring to prevent the shutout but the Mustangs' second-team defense had a goal line stance, stopping the Condors short of at the 2 yard line.
"For them to step up like that, it's just fantastic," Williams said. "The continuity and everybody balling out, it's just amazing. I couldn't ask for anymore."
Torres finished with 67 yards on the ground as NMC was held to just 82 yards rushing. Condors quarterback Marcos Munoz finished 4-of-10 passing for 66 yards.
"I'm just hoping we can watch film, learn, fix the little mistakes," Torres said. "We had a lot of big plays and then we went and turned the ball over."
With the win, the Mustangs tied with the Condors at nine-all in their lifetime series record. MVC has won seven straight wins since 2010.
"It's huge, especially the goose egg," Spohn said. "The defense was solid and we knew that we had to play our game and our offense, we had to step up and do what we knew we could."
The Mustangs hit the road to play at Carmel on Sept. 4 at 2pm, which will be their final non-league game before starting PCAL-Gabilan division play.
Cuevas said they will regroup and watch some film to make some adjustments before heading into next week's non-league game at Pajaro Valley on Sept. 4 at 2pm.
THE SCORE
MVC 35, NMC 0
Up next for M.V.C.: at Carmel
When: Sept. 4, 2pm
Up next for N.M.C.: at Pajaro Valley
When: Sept. 4, 2pm