PAJARO—Gov. Gavin Newsom on Tuesday requested a Presidential Major Disaster Declaration that would allow for federal assistance in Monterey and Santa Cruz counties, in addition to six other counties across the state affected by the recent series of atmospheric river storms.
According to Newsom, the state has already invested more than $60 million in response to the storms that have dumped record amounts of snowfall in mountainous regions and rains flooded low-lying areas of Santa Cruz and Monterey counties.
In Pajaro, the swelling river caused a 300-foot chunk of levee to break away, flooding hundreds of acres of cropland and inundating numerous homes.
Among Newsom's request in his letter to Biden is 100% for debris removal and protective measures for the first 90 days, and 90% Federal cost share to be placed into effect after the first 90 days.
"Over these past months, state, local and federal partners have worked around the clock to protect our communities from devastating storms that have ravaged every part of our state," Newsom stated in a press release. "We will continue to deploy every tool we have to help Californians rebuild and recover from these storms."
If approved, the Presidential Major Disaster Declaration will allow people in the impacted counties to be eligible for programs and support including housing assistance, food aid, counseling, medical services and legal services.
The declaration comes as good news to the flood-impacted residents of Pajaro, whose upended lives were made more uncertain by the lack of promise of federal assistance.
In Pajaro, the sodden remains of people's lives lie in towering heaps along the streets waiting to be hauled to the landfill in Marina.
Crews on Monday began the arduous process of loading and hauling it all—refrigerators and stoves, family photos and electronics, mattresses, piles of clothes and children's toys. Much of this is contaminated with river muck, essentially making it hazardous waste.
"People are gutting their entire homes," says Brittnee Russo, who has lived in her Cayetano Street home for five years.
Monterey County Communications Director Nicholas Pasculli says the debris collection could last for weeks.
While the tableau of destruction is striking—Russo has heard it could be more than a month before it is cleaned up—Russo has a message for the hordes of people driving through the neighborhoods to take video and photos: please stop, or better yet, stop to help.
"People are driving through our community looking at the devastating ruins of people's lives," she says. "We need help, not photos."
If people want to come, she says, they can bring work gloves and boots, and be ready to work alongside the affected residents.
Russo counts herself lucky; her house was not damaged by the flood, although everything in her shed and backyard are destroyed.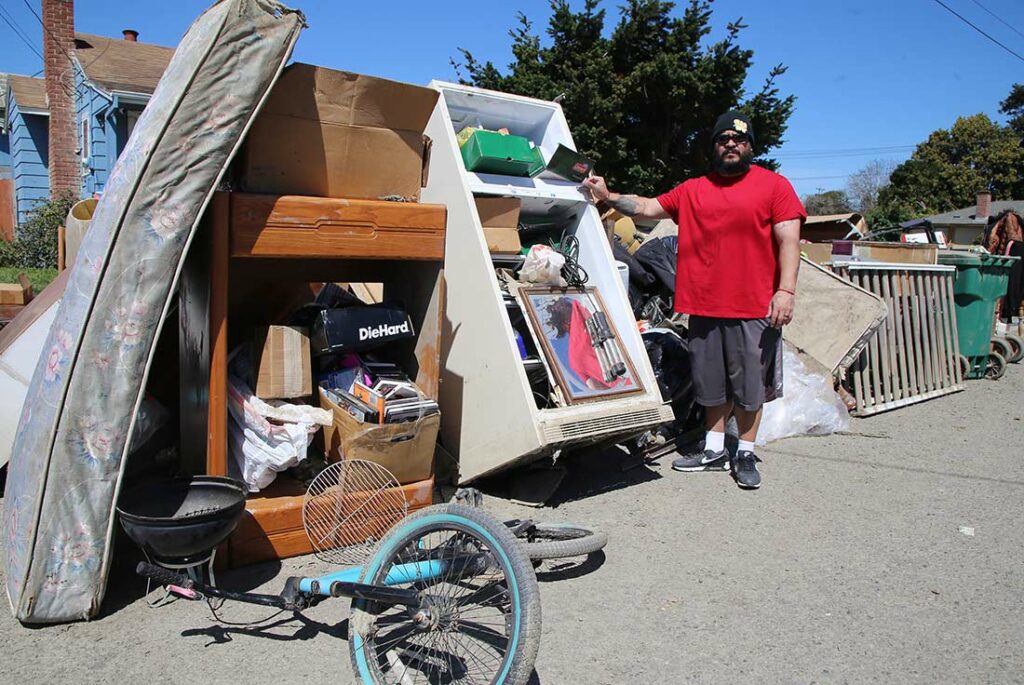 In a nearby neighborhood, Adam Garcia and Lisa Yniguez hauled a mountain of their possessions to the curb in front of their home of 17 years.
Much of this came from an outbuilding to the rear of their house, where water reached knee level.
"It was a lot of work and we're just not getting answers about how and when it all gets taken away," Garcia says.
Yniguez expressed frustration at a lack of information about when their pile would be removed, and at the lack of services provided from local officials.
"We just want our lives back but we don't see that coming any time soon," she says.
Locals respond

Pasculli says that County officials have been working "tirelessly" to organize the debris removal process and help residents with recovery.
This includes opening two "hubs" where evacuees can access showers and laundry services, as well as food and bottled water.
In addition, the Monterey County Department of Emergency Management on Wednesday will open the Local Assistance Center in the Veterans Memorial Hall at 215 East Beach St. in Watsonville, where storm victims can access several dozen services.
Among these are local and state health departments, rebuilding services, financial aid, insurance, tax and record replacement, DMV, Department of Public Health, Watsonville Law Center and the Monterey County District District Attorney's Office.
The center will remain open through at least April 7.
"The county has been working 24 hours a day, seven days a week since this started, and we're not going to sleep until we get through this," Pasculli says.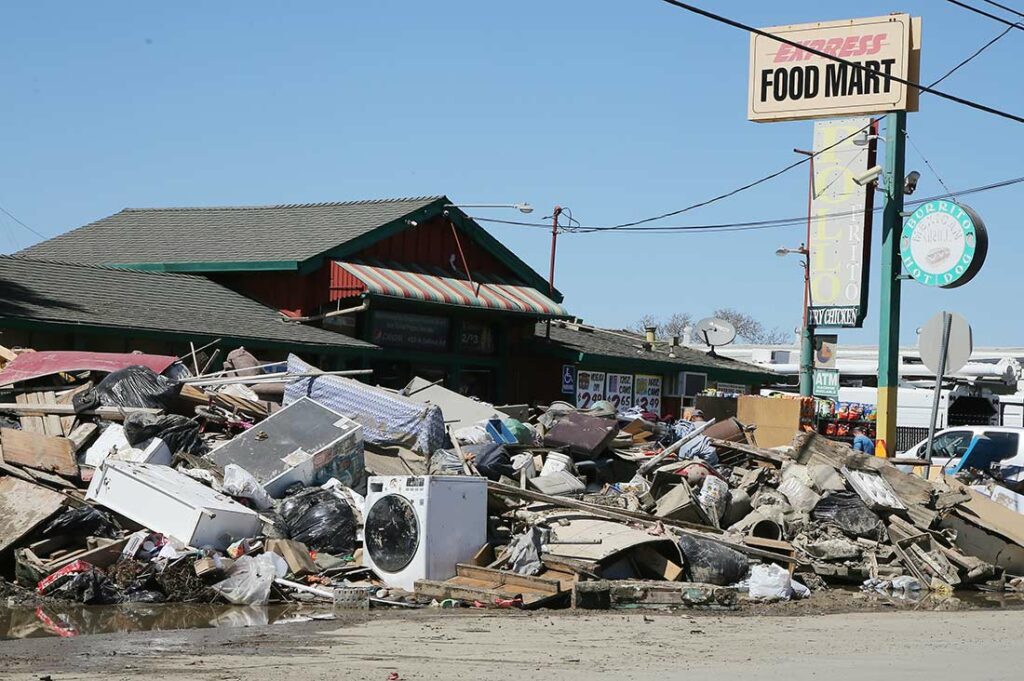 Supervisors approve eviction moratorium
Another measure of hope on Tuesday occurred when the Monterey County Board of Supervisors unanimously approved an eviction moratorium that protects renters, small businesses and mobile homeowners from eviction through the end of August.
The new rule was crafted to help people affected by the flood in Pajaro.
The moratorium does not relieve renters of their obligation to pay rent, and does not stop the eviction process, which is protected by state. But it can prevent the eviction from occurring.
Federal lawmakers push for levee repair
In addition, Senator Alex Padilla has co-authored a letter with Congresswoman Zoe Lofgren, Senator Dianne Feinstein and Congressman Jimmy Panetta, urging Michael Connor of the Army Corps of Engineers to "take immediate steps to provide emergency relief" to the areas of Pajaro and Watsonville that were hit by the flood.
The March 27 letter also asks Connor to accelerate the upcoming upgrade to the Pajaro River levee, a $400 million project that will bring 100-year flood protection to the people living near it.
That would mean expediting the required engineering reviews and other aspects of the massive construction project.
In addition, the quartet of elected officials asked Connor to free up $149 million for the project, which is the federal government's share.
Lofgren also said that she is advocating for an additional $100 million for the federal government to accelerate the levee upgrades.
"The breach made clear that this project must be prioritized," she said.