Last week my wife Sarah and I took our first short vacation since the pandemic and lockdown took over. We drove north to Lassen National Volcanic Park and stayed in an old logger's cabin at the Mill Creek Resort. The night before we left (Aug. 15) that bizarre lightning storm slammed through the Monterey Bay (and elsewhere) and lit up our world.
As we headed over Highway 17 Sunday and aimed toward Sacramento, we noticed one fire after another dotting the dry, crispy hills, which became the central theme of our trip. Sacramento, by the way, was 112 degrees as we rolled through.
One stop we made was in the Sierra foothills town of Paradise, the town that in 2018 was cauterized off the map during the infamous Camp Fire, the deadliest and most destructive wildfire in California history. As I was photographing one driveway after another that led to nothing but empty land we were interrupted by a blaring string of alert tones on my mobile phone. It was a stern warning from the Butte County Sheriff instructing us to evacuate immediately because of several wildland fires. I thought: were we about to be hit with Camp Fire II?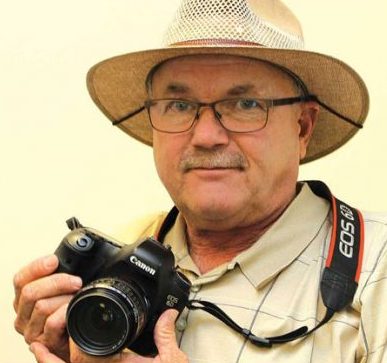 As we got out of there and crossed a ridge toward Lassen, I counted five large wildland fires out the passenger window, a giant mushroom cloud directly ahead of us (which turned out to be a fire in Susanville) and two more fires off the driver's side: We were driving through a slalom of eight fires, all triggered by lightning.
Once we pulled into our cabin our cell phone service ended and there was no TV. Our only contact with the rest of the world was a few spotty radio stations in our car. Fortunately, that heavily wooded part of the state, with abundant rivers, lakes and cooler temps, was almost free of smoke and our two nights there were peaceful and relaxing.
But by the time we left and dropped out of the mountains toward Red Bluff and Highway 5, it looked like the world was on fire. We passed around 40 fires on our drive south as we started learning, over my phone and its returned service, that the Santa Cruz Mountains were on fire and that evacuations were underway. We wondered if our route home would be blocked by fires and detours. Brown and gray mushroom clouds rose up high into the sky to our left and right almost our entire drive home.
As we approached Los Gatos the entire sky was painted with brown smoke. Pulling into our driveway, we were greeted with white ash raining over everything and the air was awful.
With my job at the Pajaronian, I've covered umpteen fires of all kinds and at least three giant ones, all oddly in 2008: The Summit Fire in May scorched 4,200 acres in the mountains above Watsonville and Corralitos; the Martin Fire in June burned through 500 acres, again in the Santa Cruz Mountains, but near Bonny Doon; and the Trabing Fire came nine days later in Watsonville near Buena Vista Drive and Larkin Valley Road. Around 1,000 acres and 26 homes got cooked before it was all over. Taking photos of one house or barn on fire after another, spot fires cropping up all around and crazed packs of horses racing about is something I won't forget.
Our mostly blue sky was sure a welcome sight Monday. So was the cooler air that drifted in from the Pacific Ocean, ushering a hint of relief from the CZU August Lightning Complex fires.
On Friday, Pajaronian reporter Todd Guild and I drove through a part of the burn from Scotts Valley and north on Highway 9 to Boulder Creek. It was eerie, not only from the evacuated towns, but also the thick layer of smoke and emergency vehicles everywhere. North of Boulder Creek we drove further into the mountains on narrow winding roads to find a bunch of homes that were burned to the ground. The only thing standing, on most lots, were stone fireplaces, remnants of appliances, metal bed frames, a child's wagon or the burned husks of people's vehicles. To lose everything in a flash like that surely must be a crushing thing to have to live with. I hope these folks can rebuild and regain some semblance of a home and community soon.
Above all, as with the 2008 fires, I have gained tremendous respect for the folks in uniforms out there, men and women in the field struggling to stamp these fires out and help get folks away from there safely.
I was lucky the day I went into the burn. Though the smoke was a very real challenge, the heaviest thing I had to carry was my camera and, after a few hours, I came home and my shirt and my hands were still clean. Those crews are lugging heavy gear around in rugged terrain, in terrible smoke day after day. Power lines are down and spots fires are opening up, posing the danger of trapping crews. And they keep at it, fighting to save the homes of people they'll most likely never meet.
Meanwhile, all of us are up against the coronavirus. When you add up these fires, the virus, the 89 Loma Prieta Earthquake, throw in a handful of floods and that tsunami that caused millions of dollars of damage when it surged through the Santa Cruz Harbor (and elsewhere), to me, it's quite a list of big battles Mother Nature has thrown upon us. But I'm convinced, based on my experience, that united, we'll march onward, we'll get through it and rebuild.
A big thank you to our firefighters, police and other folks out there in the line of fire.
Contact Pajaronian photographer Tarmo Hannula at [email protected]