WATSONVILLE—For more than 20 years, Watsonville-based organization Wild Farm Alliance (WFA) has aimed to find a sustainable balance between conservation and agriculture.
Established by a like-minded group of wildland proponents and ecological farming advocates, WFA's primary goal is to bring nature back into the industry.
"As the planet warms, and the biodiversity crisis deepens, it's really important for farmers to look towards nature, and hopefully benefit from it too," said Jo Ann Baumgartner, executive director of WFA. "We want to help find that balance."
One of WFA's biggest projects is to reintroduce songbirds onto farms, and show farmers that many of them can be beneficial, not just destructive. Just as predatory raptors such as hawks and owls can help control rodent populations, certain songbird species can do their part by eating smaller pests, such as insects that prey on crops.
Baumgartner said she's been interested in the topic for years. In the 1980s and '90s, she and husband Sam Earnshaw, a technical service provider with the National Resource Conservation Service who also runs Hedgerows Unlimited, began looking into sustainable agriculture. This led them to researching the impacts of birds on farms, with Baumgartner going back to school to study how the creatures affected apple orchards.
Over the years, the organization's focus on birds grew. They began working on a publication on the topic, compiling first-hand stories, studies and experiments conducted across the U.S. The booklet, which was released in 2019, shows how the presence of birds can reduce farm pests while increasing crop yields and/or cost-savings.
"Supporting Beneficial Birds and Managing Pest Birds" has changed the way that farmers engage with WFA, Baumgartner said.
"There are plenty of studies out there showing that birds are doing something bad," she said. "Once our book came out, farmers wanted to talk about it. And not just about birds who eat what they are growing—which does occur, but it's only certain species. There are lots of birds that are partly, or very beneficial to a farm."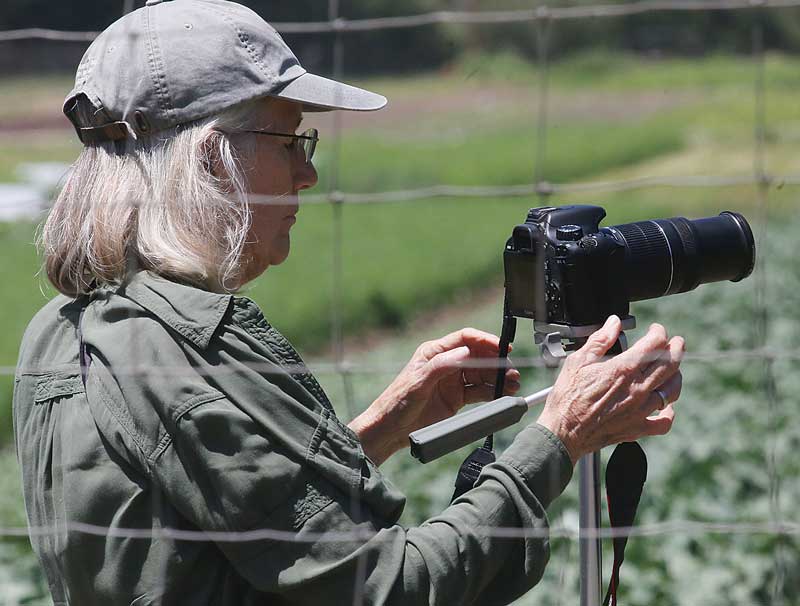 WFA has worked closely with a number of scientific experts. This includes Daniel Karp, assistant professor in the Department of Wildlife, Fish and Conservation Biology at UC Davis. Karp has been involved in a long-term study on strawberries, trying to quantify the amount of damages associated with birds.
He's found that yes, birds eat insects—many of them ones that eat crops. But certain birds also eat the insects that eat smaller pests.
"So there's a real balance there," he said. "There are benefits and drawbacks."
The primary concerns from farmers, he said, are about food safety issues; questions about whether birds or other animals could be bringing food borne diseases onto farms, leading to outbreaks. If you're a farm of a certain size, auditors are routinely sent out to make sure you have met certain standards.
"There's incredible pressure on farmers to discourage wildlife from coming onto the fields in fear of them spreading these diseases," Karp said. "What we've done is study all these things at once. We see what the farmer does to manage that farm; how that affects the wildlife, and how that in turn affects all of these issues."
Some of the industry standards, Karp said, are "vital" and important in keeping consumers safe. Others, such as the complete removal of habitats around farms, are less science-based and can sometimes lead to more issues.
"Growers are often caught in the middle," he said. "It can be tricky."
This past winter, WFA and its partners held a series of Virtual Field Days, where they visited farms to do demonstrations and discuss their findings. Many were held at farms that had installed songbird nest boxes, either independently or through WFA.
"Sometimes farmers are just super busy… it's not easy to sell to them bringing nature back to their farm," Baumgartner said. "But putting in a bird box is super easy."
At Blue Heron Farms in Corralitos, Baumgartner said that owner Dennis Tamura has installed 32 songbird boxes on his farm. This has attracted species such as western bluebirds and tree swallows, which has resulted in good pest control against beetles.
"It's also just delightful to see the parents feeding their young," Baumgartner said. "A lot of farmers are just enjoying seeing these birds, while also benefiting from natural pest control."
Farms can be added to WFA's Songbird Farm Trail, which highlights farms and landscapes that are supporting beneficial birds by installing the boxes.
"It's great, because people have been encouraging each other to use them," Baumgartner said. "We'd love to see a million of these boxes go up, and more vegetative habitats, riparian areas and hedgerows put in. We want to be a resource for people who want to do these things."
For Karp, it's all about looking for win-win situations for both farmers and the environment.
"Farmers are very smart, and know their land better than I do," he said. "We don't want to pull the wool over anyone's eyes. We're feeling more win-win these days, which is great. We're seeing that there can be really cool examples of ways to integrate conservation into farming."
Added Baumgartner: "We need to start thinking of agriculture as not only growing our food, but also supporting nature—which in turn, supports everything in the end."
For information about WFA and their work, visit wildfarmalliance.org.