Spring is here, and with it comes warmer temperatures, more outdoor activities and a surge in home gardening.
But with unpredictable weather patterns increasing, as well as the ongoing drought in California, there is plenty more to think about now when choosing what to plant this year.
Jeff Rosendale, owner of Sierra Azul Nursery & Gardens in Watsonville, says that business has remained strong through the winter months due to warm and drier than usual temperatures.
"It felt like Spring in early February," he said. "Then we got some colder weather, a cold snap in late February, so that kind of held things back a little bit for us. We scrambled when it got down into the 20s in certain places around here. Now we're over that, and it's officially spring. The little rain we had recently was nice, even though it was only a quarter of an inch."
Rosendale said that customers have already started showing interest in planting their seasonal gardens. He predicts that many edibles—vegetable crops, citrus and other fruit trees—will start selling more through the spring and into summer.
Sierra Azul specializes in propagating proteas, subtropical flowering plants that are ideal to grow in regions like the Monterey Bay area. In fact, coastal California is one of only five mediterranean climates in the world where such plants can be produced.
"We've been seeing some increased popularity in the proteas we grow here," Rosendale said. "We had some really good early sales. That's been good for us. We're coming up on a stage now where we're a bit low, but more should be coming on soon."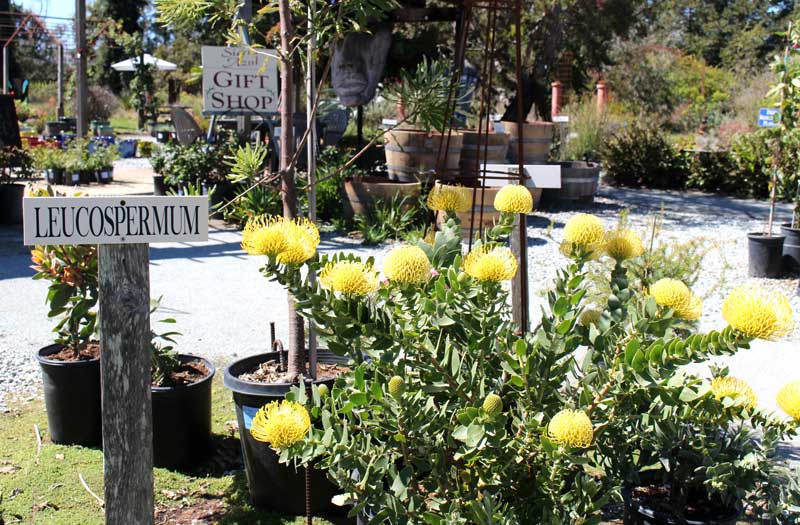 Plants that thrive in dry climates have become vital for nurseries in California. While "waterwise" plants have always been an important part of Sierra Azul's selection, Rosendale said that California native plants have become increasingly popular with customers.
This could be due to everything from an increase in environmental awareness, including the importance of local pollinators, as well as the current drought. Local water districts have also been offering rebate programs to residents when they replace their front lawns with sustainable landscapes.
"Some [districts] have even stepped up their rebate amounts," Rosendale said. "There's definitely an incentive for people to get away from the old fashioned lawns and border shrubs. And people are definitely learning that you can have a low water use garden that is still really interesting."
Due to this increase, the nursery is expanding their selections of native plants. On top of that, Rosendale says there has been a big surge in home gardening due to the pandemic.
"People are spending more time at home gardening," he said. "That has maybe subsided a bit since the first lockdowns, the fervor of it all, but it's still really popular. The whole gardening push has happened and will continue, tempered to some degree by the drought and water restrictions."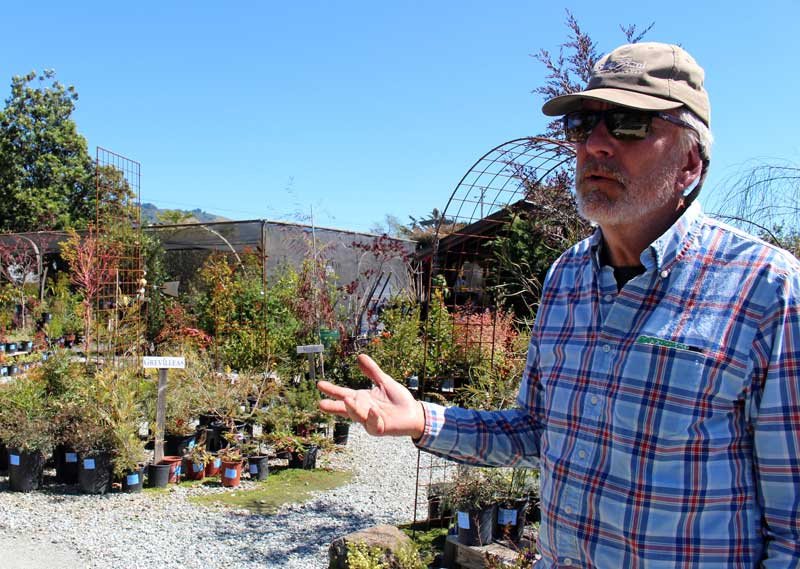 Rosendale said he is hopeful that the central coast will get another rainstorm or two before the end of April. That, he says, would greatly help both their businesses as well as their customers' gardens.
"That's definitely something we're all thinking about," he said. "It would be amazing to have a bit more rain. Regardless, people will continue to spend more time in their garden."
The nursery will soon be restarting its gardening workshops, classes and events. In May they will be installing Sculpture Is, an annual art sculpture exhibit with Pajaro Valley Arts, which will run through October.
"Spring marks a busy time here, and we hope people will come out and enjoy," Rosendale said.
Sierra Azul Nursery & Gardens is located at 2660 East Lake Ave., Watsonville. It is open daily 10am-5pm. For information, visit sierraazul.com.