SANTA CRUZ—Santa Cruz Police arrested a 41-year-old man who allegedly kidnapped his 18-month-old daughter on Friday morning, ending an hours-long search and standoff in the Beach Flats area of Santa Cruz.
Brian Sellen, of Hollister, allegedly kicked in the door of the hotel where his daughter was staying with her mother, and then took the girl before fleeing.
A police dog tracked Sellen to an apartment building on Second Street, said Santa Cruz Police Chief Andy Mills.
Officers were negotiating with Sellen via a loudspeaker late Friday morning and into the afternoon before he surrendered at 4:15 p.m.
His daughter was unharmed, Mills said.
Law enforcement officials were scouring the neighborhood after the kidnapping, checking the back seats and trunks of passing vehicles in their search for Sellen.
Officers from Watsonville Police Department, the Santa Cruz County Sheriff's Office and the California Highway Patrol assisted SCPD.
Police were also using a drone to aid in the search.
"He took the baby, and disappeared into the night," Mills said. "We just want to make sure he doesn't get outside of our perimeter."
Police believe that Sellen is being helped by a friend, Mills said.
Mills said that Sellen is estranged from the girl's mother and that he does not have parental rights.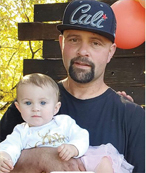 According to the child's grandmother Misti Cox, the child's mother told Sellen to leave just before he broke into her room. That's when he punched her, causing her to fall and severely injure her leg. The victim was undergoing surgery on her leg Friday, she said.
Sellen later phoned the girl's mother, Cox said.
"He said, 'you're not getting this baby back,'" she said.
THIS STORY WAS EDITED FROM A PREVIOUS VERSION