WATSONVILLE—The Watsonville High School community last year was shaken when a beloved three-decades old mural on the wall of the school's cafeteria was painted over during a construction project.
The move, directed by site administration and the district facilities department, outraged the artists involved in the mural's creation and many who remembered its importance and impact.
This week, work is underway to recreate the mural. Led by local artist Guillermo "Yermo" Aranda, who in 1991 guided a group of students to paint the original piece, the project is gaining momentum and support from the greater Watsonville community.
Last week scaffolding was set up in the cafeteria, along the same wall as the original piece. Primer was applied on Monday, and the new design was transferred to the wall before painting began.
Aranda said that heading up the recreation effort has been incredibly gratifying.
"It's the least I could do for the students, after all they went through to make the original mural," he said. "I feel really happy to be doing something to make people aware of its history."
The creation of the original 40-foot mural, entitled "Sueños," or Dreams, was fraught with challenges. The design, which featured a jaguar (a symbol of leadership in Mayan culture), was initially called "too Hispanic" by both the Watsonville High School (WHS) site council and Pajaro Valley Unified School District (PVUSD), who also falsely claimed that it contained gang imagery.
After numerous modifications to the design, Aranda and the students were able to complete the mural. It was unveiled on Oct. 5, 1991.

Recently, Aranda put out an open call to the community to help with the recreation. He reached out to WHS Activities Director Kris Grantz and asked if she had any students who needed community service hours or just wanted to learn how to paint.
Grantz created a format for students to sign up. She says multiple students have shown interest so far, some of whom are already coming in to help in shifts.
"I love it," she said. "Thirty years later, we have this new group of kids who are going to come in and restore what was lost. I'm very excited to see how it turns out."
Rubi Abrego, a sophomore at Watsonville High School, joined half a dozen other students Tuesday in painting the mural under Aranda's tutelage.
"I've never done anything like this before," she said. "I heard about the project through the ASB and wanted to do something at the school. It's fun."
Local artist Paul DeWorken has been working closely with Aranda on the project, as well as members of Aranda's own family. A number of people who worked on the original mural are also returning to help, including Martha Vega and Jimmy Rodriguez.
In conjunction with the recreation, local Watsonville film company Calavera Media, headed by Digital NEST's Gabe Medina, are documenting the recreation and plan to release a film about it and Aranda's work.
Tuesday night, filming was underway. Medina's team caught sound bites and footage of Aranda working with the students, and they will conduct interviews in the coming weeks with artists and organizers.
Medina says that currently, the plan is to produce a short film. But an online IndieGoGo fundraising campaign is underway to fund the project, and if it raises enough money, they may be able to expand it into a feature film.
To donate to the campaign visit bit.ly/2Oz1gxz.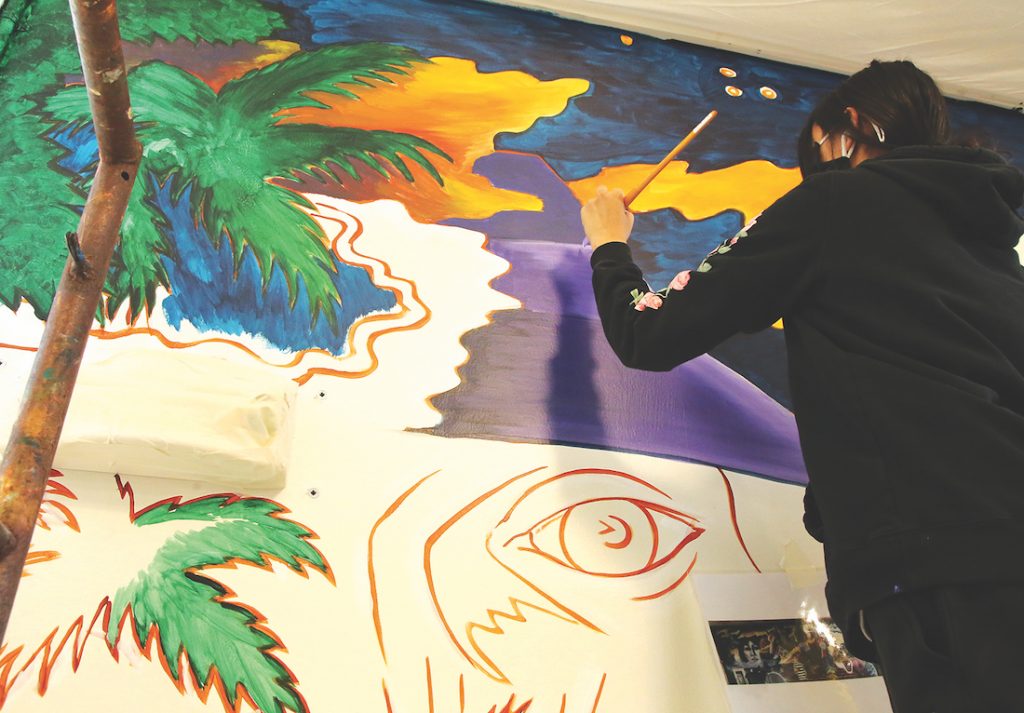 Medina, a WHS grad, said that watching the recreation come to life has been "incredible."
"I used to see [the original] mural all the time," he said. "I never thought in a million years that I'd see it be recreated like this. It's been special just to watch how Yermo is able to pull in the past and the present and create this new work… it's just beautiful."
Medina praised Aranda's ability to connect with the students, and his impact on the local arts scene in general.
"He's a known muralist in the area for that reason," Medina said. "He's a legend, honestly. If you're from Watsonville, if people are talking about murals… it's Yermo. And he's such a humble man. He was totally on board for us to do to our film."
Medina said that it has been rewarding to have the current, new wave of Watsonville filmmakers help document Aranda "in his element."
"We've all known about Yermo and what he's done, but we've never really been brought into his process," he said. "So the fact we can document Yermo in this way… It's going to be a really nice piece that we're going to be able to share with the community."
Aranda estimated that the project should take between six to eight weeks to complete. He thanked everyone involved, and made a special mention of PVUSD Superintendent Michelle Rodriguez for her support of the project.
"I'm very grateful to her, being so willing to work with me to make this happen," he said. "Everyone, really, has been very helpful. I'm glad it is working out."