SANTA CRUZ—Santa Cruz County Sheriff's deputies on Monday arrested a Santa Cruz man on several felony sex crimes, sheriff's spokeswoman Ashley Keehn said.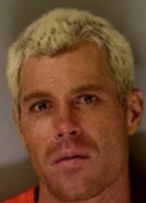 Lucas Klatt, 39, was charged with lewd and lascivious acts with a child, annoying or molesting a child and burglary.
Klatt is known in the Santa Cruz County surfing community, and investigators believe there could be more victims, Keehn said.
Anyone with information is asked to call Det. Sgt. Zach West at 454-7645.