Solo trip to bustling, global city reveals hidden gems
Note: This is the fourth part in a series about England, Germany and the Netherlands.
When I decided to travel to Europe this year, I wanted to visit countries where I had friends. This was the case in England and Germany—but plans to visit a friend in Vienna, Austria fell through.
My gut reaction was to come home early. But I had requested two weeks off both my jobs, and I hadn't had a long vacation in ages.
I opened a map and looked for places near Germany. One stood out, and it was only a 2-hour flight away: Amsterdam, the Netherlands.
When I told people I would be solo-traveling to Amsterdam, a tourist-heavy hub where many go to enjoy the nightlife in the famous Red Light District, they were surprised.
But Amsterdam is more than just flashy parties. It is geographically unique, rich in culture and continually innovative. No matter if you are going there with a group or alone, there is plenty to see and do.
On the night of Oct. 3 my flight landed at Schiphol Airport. I transferred to rail, which took me to Amsterdam Central Station—an icon of the city built in 1889.
While most passengers headed downtown, I went the opposite direction to the waterfront. I boarded a ferry, my suitcase gripped tightly in one hand as it took off across River IJ. I was surrounded by people speaking a plethora of languages—some commuting, others visitors like me.
(Amsterdam offers free ferry travel across River IJ for pedestrians, cyclists and mopeds.)
My hostel was called Clink, in Amsterdam-Noord, an up-and-coming area that has recently seen lots of transformation. Staying at Clink was one of my favorite aspects of the trip. Rooms were clean and modern. It had a bar, many community spaces and a cafeteria where breakfast was served every morning. Staff offered tours, games, movie nights, beer tasting and more.
My first night in Amsterdam had me settling in and meeting roommates (including one from South Korea who would become a close friend) before crashing early.
When researching Amsterdam, I wanted to find interesting, lesser-known attractions. One that I found was De Poezenboot ("The Catboat"), a non-profit started in 1968 on a houseboat on one of Amsterdam's many picturesque canals. Dubbed "the world's only floating cat sanctuary," it is home to many felines—some who live there and others who are adoptable. The charity relies on volunteers and donations.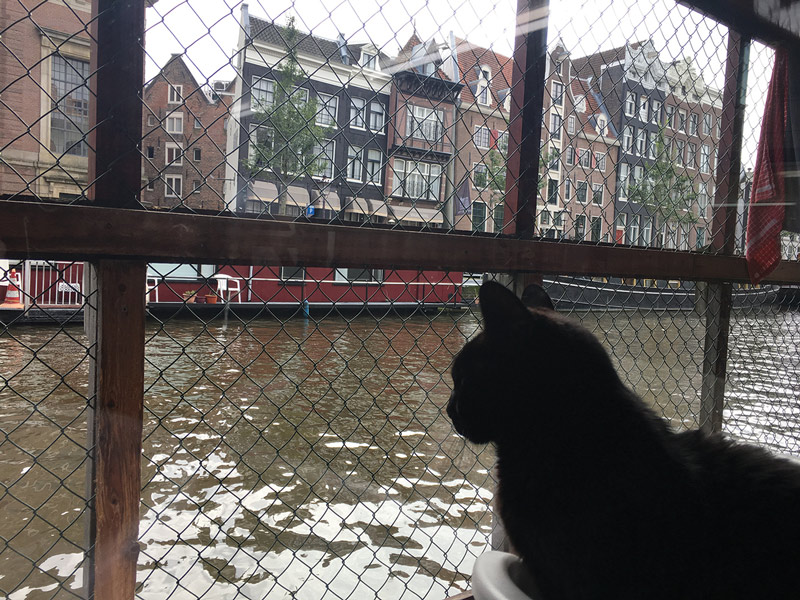 I visited the boat on my first morning in the city, where I met a nice couple from Boston, Massachusetts.
"My mom couldn't believe I came all this way for cats," one of them laughed. "I have no regrets."
From there I headed to the city center. I bought an "I Amsterdam" card, giving me quick access to museums, attractions and public transportation, and discounts on places to eat. I decided to take a canal cruise—a very popular activity there.
Well, the cruise was underwhelming. The boat was loud, the commentary pre-recorded and our driver even rammed the vessel into a piling, alarming everyone.
This is my main qualm with Amsterdam: it is oversaturated with tourism. And the canals, in my opinion, are taking the brunt of it. There were too many cruise boats like ours charging through, forcing small local boats to the side.
Still, if you leave the city center and walk a few blocks, things calm down and you can experience the "real" Amsterdam—where locals live and work. It isn't hard to find a smaller, less-traveled canal to sit alongside and people-watch.
There are also gems hidden in plain sight. In the middle of Amsterdam's center sits Oude Kerk ("Old Church"), the city's oldest building. I spent a while wandering through the sanctuary and side rooms. Then I hopped over to the church's attached cafe for a traditional Dutch Stroopwaffle and coffee.
On my way back to the hostel, I visited the Eye Film Museum in Amsterdam-Noord, where I was able to catch a special exhibit about Russian filmmaker Andrei Tarkovsky before closing.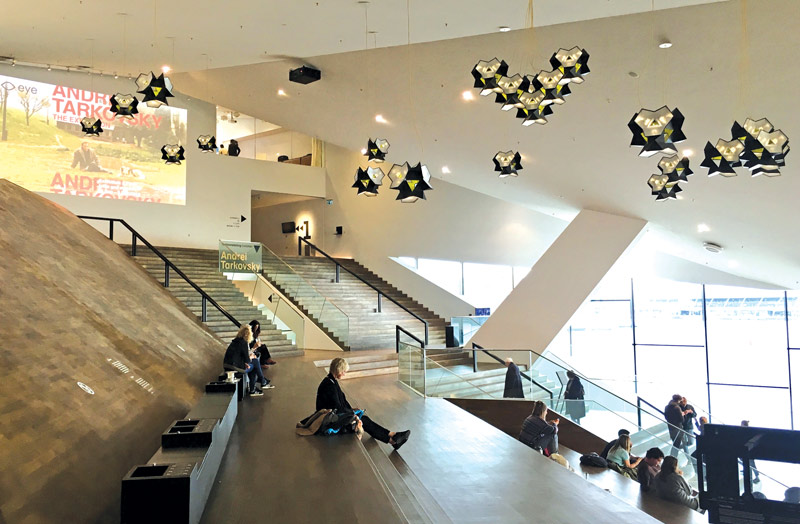 I made it to Clink for a special Solo Travelers' Dinner, where I joined a group of travelers at a table near the bar, enjoying dinner and getting to know each other.
Later that night I went to the Butcher Social Club, a short walk from Clink. I had gone on a whim, looking for a comfortable place for a drink.
I could kick myself for forgetting my bartender's name—in my opinion, he deserves the highest honor. Granted, I am not an expert on cocktails, but what he did was nothing short of a science experiment, with some performing arts thrown in.
He was friendly to all of us at the bar, though he and I talked the most since I was alone. When I got my check, I was surprised to see that he had only charged me for one of my three drinks.
"Just go pay it forward," he said, smiling. "Welcome to Amsterdam."
•••
For part 6 of this travel series go to https://pajaronian.com/a-touch-of-old-dutch-travel/.