CAMPBELL—For some, the St. Francis High football team wasn't expected to reach the Central Coast Section Division V title game, let alone get past the quarterfinals.
However, the No. 7 seed Sharks, champion of the Pacific Coast Athletic League's Santa Lucia Division, made some history by notching their first playoff win and first ever trip to a section title game.
Last Saturday, they were on the cusp of pulling off a third upset against top-seeded Aragon High.
But it was the Dons who gave longtime coach Steve Sell an ice water bath with 45 seconds left on the clock en route to a 38-14 win against the Sharks (9-4), who did their best to celebrate a historical run of their own.
"As much as I'm sad right now, I gotta appreciate how far we've come as a team, it's amazing," St. Francis senior Johrdan Garibay said. "A lot of us would've never thought after our first three games we would even be in this position. I'm grateful we're even here in this opportunity to play in the championship game and make a legacy for our school."
For Aragon—the third-place finisher in the Peninsula Athletic League's Ocean Division—it was their fifth title game appearance and third title since they last won in 1994. It was the first championship under Sell, who took over the program in 2000.
"This group went through hell as sophomores in 2019 and really kind of hung in there through the quarantine and really put it together this year," Sell said.
After exploding for a combined 94 points in wins over No. 2 Cupertino and No. 6 Los Altos in back-to-back weeks, the Sharks came out swinging in Saturday's championship game.
They held the Dons to a 25-yard field goal from Cole Smith. Garibay followed up with a score of his own on a tackle-breaking 21-yard run that gave the Sharks a 7-3 lead on the first play of the second quarter.
The scoring drive was set up by a 34-yard completion from quarterback Kyle Dyer to tight end Seth Vasquez.
Garibay then used his speed to zip past defenders on an 85-yard kickoff return that gave them a 14-10 lead over the Dons at the half.
But the Sharks' offense hit a wall in the second half and were held to 113 yards by the Dons.
St. Francis rushed for 69 yards on 22 carries and completed 5 of 9 passes for 44 yards. The Dons finished with 69 plays on offense compared to the Sharks' 37.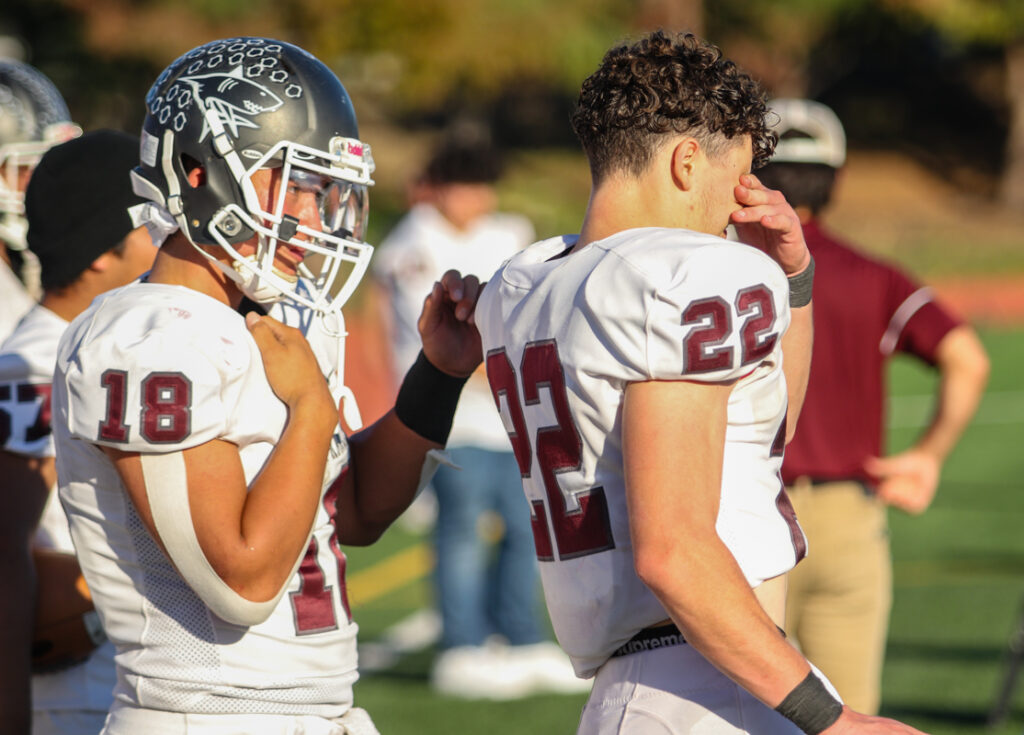 Charles Valencia and Diego Ramirez recorded interceptions for the Sharks. The Dons also lost a fumble while on a punt return just before the half and the Sharks took over at the Dons' 19-yard line. But they failed to capitalize on the turnover by throwing an interception three plays later.
St. Francis coach John Ausman said they had some opportunities and he never thought the game was out of reach, but it came down to their lack of execution on certain plays.
"We had some guys open that we didn't hit, and we didn't make a couple of tackles," he said. "I don't think we were out of the game until they scored to make it a 17-point game. That's when it kind of hurt us."
Kautai Faaumu and Albert Zheng made interceptions for the Dons (9-4), who tacked on three short touchdown runs in an 8-minute span in the fourth quarter.
Junior wide receiver Lloyd Walter took a pitch from the quarterback on an end-around play and completed a 37-yard scoring pass to wide open receiver Alan Tanielu that gave the Dons the lead for good, 17-14, with 7:49 left in the third quarter.
Aragon passed for 103 yards, completing 6 of 13 attempts, and ran for 284 yards on 49 carries. Sophomore Ivan Nisa ran for a game-high 160 yards on 17 carries, including a 48-yard run that put them in position to score.
"Last summer we didn't even think we'd have a championship this season," he said. "Us, winning a championship means everything to us."
Nisa gave kudos to the offensive line for making the key blocks to open up the gaps for him and the rest of the running backs to get through.
Senior running back Solomone Hokafonu scored twice in the second half, and Jared Walsh and Tanielu also rushed for scores.
Despite the loss, Ausman said there was no need to hang their heads low and he gave credit to the seniors for keeping the team together after a tough start to the season.
"This season was based on what our seniors wanted and the expectations they set for their team," Ausman said. "Whenever you see a team have that kind of success it's because of those seniors. It was awesome."
Valencia, who came in for Dyer in the second half, said this season was like a roller coaster, especially after he got injured in the second week of the season against Watsonville High and the way they got off to an 0-3 start.
"I didn't know what was going to go on this season but we just believed," he said. "[John] Ausman kept pushing us, telling us that we got this and there's bigger things we want to get."
Valencia said he heard that a lot of people started to doubt the Sharks when they got into the postseason.
"We used that as fuel," he said. "We wanted to show everyone that we can compete, especially in Watsonville where we don't get enough love… it was a great thing to see us working hard, especially getting to this championship."
THE SCORE
Aragon 38, St. Francis 14
Up next: End of season