WATSONVILLE—There comes a time when high school senior student-athletes have to make the tough decision of what school they want to attend in the fall.
St. Francis High softball standout Mariah Montalvo had several choices on her list. In the end, she ultimately went with what she's always called her dream school.
The third baseman and catcher will extend her playing career after she signed her National Letter of Intent to compete at Santa Clara University. Montalvo, who recently made a trip to Seattle University, drew interest from a handful of D-II and D-III programs.
"It was a hard decision but I did end up choosing Santa Clara," she said. "I liked what both had to offer, though."
Montalvo, who currently has a 4.0 grade point average, will receive a partial scholarship and plans on pursuing a major in engineering.
"I always aim for high academics and so I thought that would be a great fit for me," she said. "I always hear good things and they have connections to a lot of jobs nearby."
She likes the school's proximity to Watsonville, which is just an hour's drive. Then there's the fact that her family will be close enough to watch her compete at Santa Clara Softball Stadium.
The Broncos are led by second-year coach Gina Carbonatto. They went 8-20 overall in 2021 and finished with a 5-10 record in the West Coast Conference.
Montalvo took a trip to the campus where she watched the team work out and instantly fell in love with the coaching staff's energy. Plus, the roster includes some local talent such as Liyah Lopez of Watsonville High, Lauren LaHood of Scotts Valley High and Nina Taylor of Christopher High in Gilroy.
"I just thought they were good people and I think they'd be great coaches," she said. "I think the team was very connected, they just seemed like a big family there and I thought that was super cool."
Montalvo's softball journey began in seventh grade when she played travel ball in the Central Coast Athletics organization based in Monterey. That was followed by a stint with the California Suncats, and in the fall of 2021 she made the move to the Corona Angels.
Watsonville native Robert Gomez has been her club coach during that entire stretch. He remembers when they began talking about possible recruitment, Montalvo's parents mentioned that Santa Clara was on their radar.
"The fact that that came together for her this summer and fall, and to get a scholarship offer is awesome and it was a perfect fit for her," Gomez said.
Gomez has coached several junior and senior student-athletes and Montalvo is as hard of a worker as he's seen. When the CCA was disbanded, he was forced to convince players to join him in a different organization.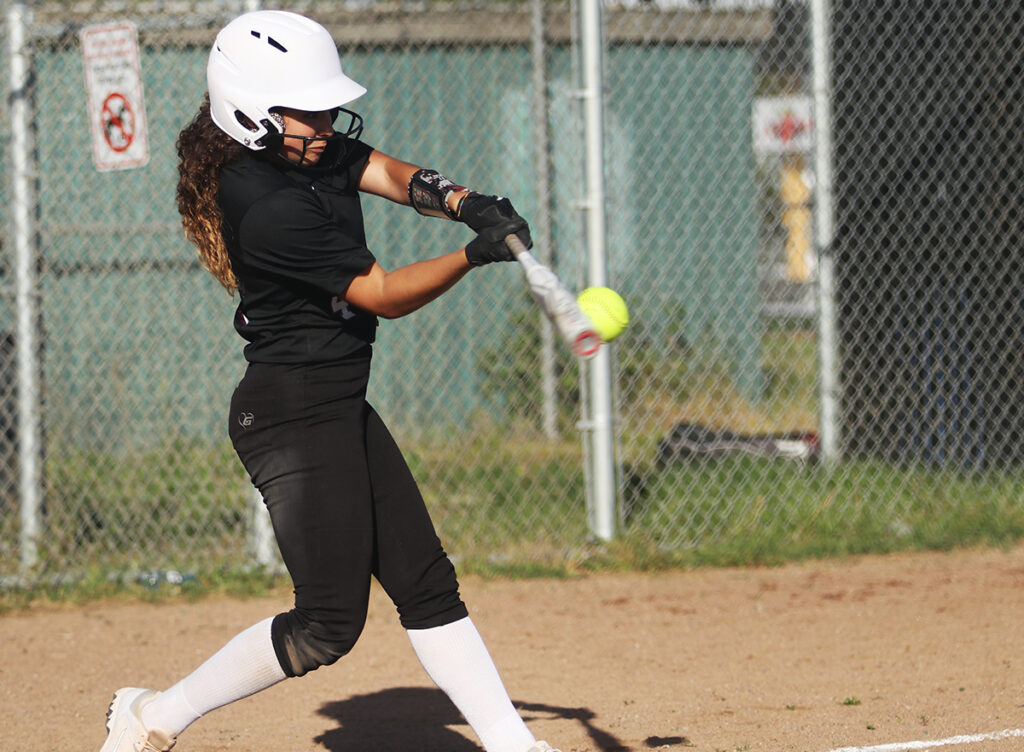 "The loyalty on my end, the travel ball world, it's pretty rare to coach the same group of kids since seventh, eighth grade and she's obviously one of those kids that's been with me this whole time," Gomez said.
Montalvo said she loved Gomez's coaching style and playing for him has helped improve her game tremendously.
"[Gomez] definitely pushed me out of my comfort zone," she said. "I'm not the most verbal person but he definitely helped me get more verbal and more confident."
Montalvo played softball for Monte Vista Christian School as a freshman and was named First-Team All-Pacific Coast Athletic League. She transferred to St. Francis after the season, but the 2020 campaign was wiped out by the Covid-19 pandemic.
Montalvo kept grinding throughout the offseason inside the batting cage in her backyard.
As a junior, Montalvo batted .556 (25 for 45) with 11 extra-base hits, including four home runs. She had 24 RBI and scored 21 runs for the Sharks last season, which earned her First-Team All-SCCAL honors.
She helped the Sharks to an 11-4 overall record, going 11-3 in Santa Cruz Coast Athletic League play during the abbreviated 2021 spring season and qualified for the Central Coast Section Division II playoffs.
They tied with Aptos High (11-3, 11-3) for second place and were runner-up behind champion Watsonville High (17-1, 14-1).
Montalvo, who is currently playing on the girls' basketball team, is already gearing up for next season.
"Everything she does she gives it 110%," Sharks softball coach Adam Noto said.
Noto added that Montalvo is the type of player that wants to outwork everybody on the field, or court, and she has a passion for the game.
"I don't know what Santa Clara is going to do with her but the nice thing about Mariah is she's not a catcher, she's just a softball player," he said. "She can catch, she can play second, she can play short … I even watched her catch balls in the outfield."
Noto said that Montalvo can also pitch, which is an idea she keeps bringing up to him. He promised her that she'll get her chance at least once this season.
Putting in the extra hard work is just part of Montalvo's list of goals that include competing for an NCAA D-I school.
"I always had to work towards my goal so I could achieve it," she said. "I just have a love for being active and playing sports. Basketball and softball are just sports that I grew to love and I have no problem putting in the work for both of those."