This weekend, 127 artists will open their studios, including 28 participating for the first time. The public is invited to explore the free self-guided Open Studios Art Tour by visiting artists from the Pajaro Valley to Santa Cruz Yacht Harbor between 11am and 5pm Saturday and Sunday.
Over the first three weekends in October, artists across the county open their studios to the public each year. It's produced by Arts Council Santa Cruz County, featuring 322 artists working in dozens of mediums across the county. The 2023 Tour begins this year with the South County weekend.
"Studios come in all shapes, sizes and forms," said Ann Ostermann, Open Studios director. "Some work at their kitchen tables and transform that space for the tour, while others have separate spaces where they create or share with other artists or set up in community spaces."
Artists and mediums in the tour are as diverse as their studios. Charles Prentiss, primarily a painter and printmaker, is also a museum exhibit designer and architectural and color consultant and holds a degree in Zoology. Prentiss uses bold colors to bring landscapes, scenes from home and portraits to life. Visiting his studio is an adventure in and of itself. Located on a co-housing group (aka commune) in La Selva Beach, the pastoral location views the Monterey Bay and has a little magic at every turn.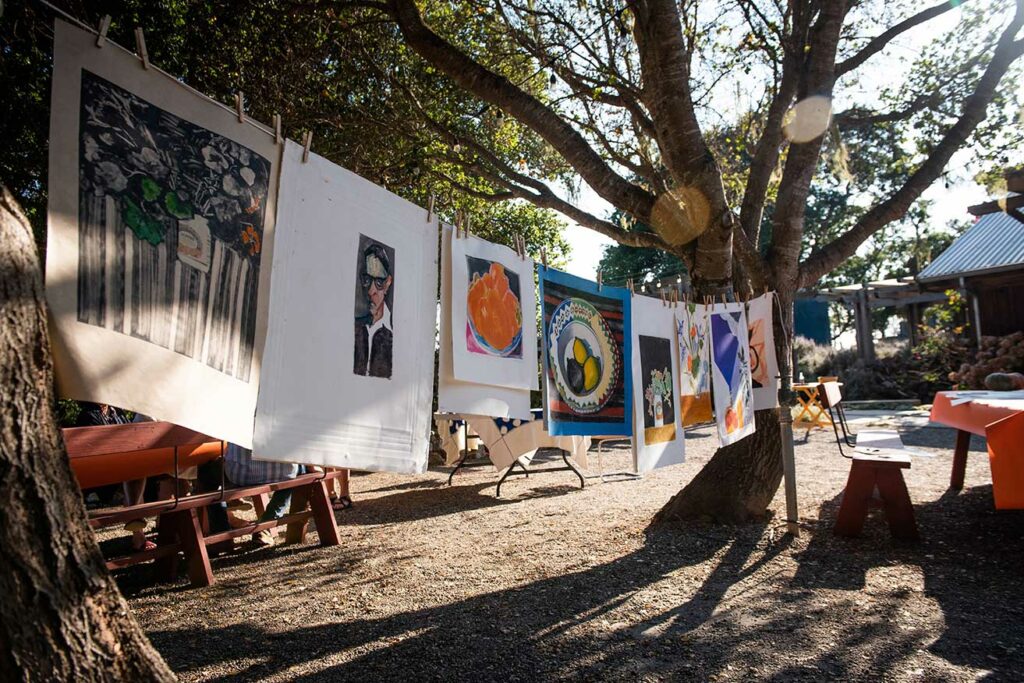 Hermelinda Vasquez-Matias will show her work at Pajaro Valley Arts' Porter Building in Watsonville. Her mythical sculptures, known as alebrijes, are handpainted, vibrantly colored, and detailed.
"I carve my alebrijes from a piece of Copal tree wood using a folding knife, machete and wood chisels," she said. "I use a thick tree trunk as a bench to support the piece as I carve. Creating each piece involves many steps."
This year, there are more first-time participants than ever, with 65 artists new to the tour, with 28 participating this weekend.
Charles Gonzales is among the Open Studios first-timers. A Watsonville-based studio painter, he uses various acrylic paints to paint larger statement pieces and methods, including saturated brush, dry brush, hands, and squeegees.
"I lived in Tokyo for 12 years and am highly influenced by certain Japanese artists," Gonzales said.
Lauren Ringelman is a mixed-media artist, illustrator and designer living and working in Soquel. She creates intricate drawings and block prints combined with wild splashes of ink to celebrate the natural world. Her studio, a sweet space on the property where she lives, is as inviting and friendly as she is, surrounded by the natural world that influences her work.
"My mission as an artist is to share the wonder and joy that I find in nature and inspire care for our beautiful planet. It needs us, and we need it. I truly believe that all of the magic we will ever need is right here, in this special place we get to call our home," Ringelman said.
"There's no one way to enjoy the tour. You can visit a bunch of studios or just one. Spend a day or a few minutes," Ostermann said. "That's the beauty of it. It's a casual, relaxed way to explore our county and experience the depth of creativity in our community."
Free printed Artist Guides are available throughout the county, and an Open Studios App and website help navigate the tour. Artists can be searched by last name, medium and number. Download the free app—on iTunes and Google Play—and search for "Open Studios Santa Cruz County." The app allows for marking favorite artists, mapping their locations, and building a tour around them.
The public is also invited to the Preview Exhibit at the Santa Cruz Art League, open now through Oct. 22 at the Santa Cruz Art League (526 Broadway in Santa Cruz). The Preview Exhibit features artwork from each of the 300-plus Open Studios artists.
Learn more at santacruzopenstudios.com or follow @openstudios.scc on Instagram.