AROMAS—An Oakland man is in custody following a string of crimes that included an armed robbery of the Mobil Gas Station in Aromas on Oct. 22.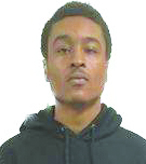 During the robbery, at 2961 San Juan Road, a store clerk was held at gunpoint while cash was taken from the register, the Monterey County Sheriff's Office said. Two suspects then ran out of the business and got into a vehicle and sped off.
During the investigation, which included assistance from San Francisco Police, 20-year-old Albert Spikes of Oakland was identified as one of the suspects. Police also learned that Spikes was in the same vehicle that had been taken earlier in the day in an armed carjacking and kidnapping incident in San Francisco. The victim in that incident was uninjured, and the stolen vehicle has since been recovered, the Sheriff's Office said.
The robbery case was submitted to the Monterey County District Attorney's Office and a $75,000 arrest warrant was issued for Spikes.
Last week, detectives tracked down Spikes in San Francisco. He was taken into custody without incident and taken to Monterey County Jail.
The other suspect remains at large and the incident is still under investigation.