WATSONVILLE—The Watsonville Certified Farmers' Market continues to offer an array of fresh fruits and vegetables, and gives back to the community every Friday in downtown Watsonville.
While many shoppers stop by for a bag of kettle corn, fresh flowers, eggs, hot prepared foods or a jar of honey, the produce stands offer a wide range of products, many certified organic, to regular shoppers.
"I always come here for the organic vegetables," said Susan Pearlman, who said she moved into the Pajaro Valley in 2015. "I like this stand (Esquivel Farms of Gilroy) because of their wide selection, and they make sure everything is fresh and organic. Today I'm picking up rainbow chard, potatoes, beets, lettuce and carrots. It's just great that this is here so close to my home."
On Friday Esquivel Farms, Tu Universo Farms of Gilroy, Alberto's Farm of San Benito County, Perez Farms of Watsonville, and Castellanos Farm of Tulare County featured everything from potatoes to oranges, several kinds of lettuce and other greens, bell peppers, chili peppers, red, yellow and green onions, celery, carrots, radishes and more.
Jesus Castellanos of Castellanos Farm said his farm crew has been selling at the Watsonville market for about 15 years.
"Watsonville is about a three hour drive for us but our sales there are pretty good," he said. "Right now we have three kinds of persimmons, pears, grapes, tangerines, oranges and more. We sell at many different farmers markets."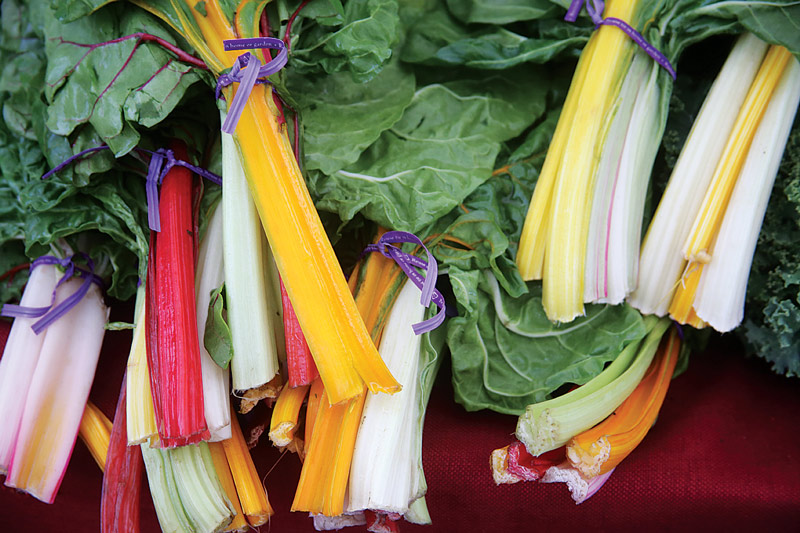 Jesus Madrigal, market manager and president, said he sees a lot of regulars at the market, some coming away with more than one box packed with produce every week.
"There are a lot of teachers from Watsonville High School and many retired people that are very loyal to this market," he said. "Some of them I see visiting three vendors. They'll be more vendors as the weather gets warmer; we're in the low season now with six vendors selling produce. Five of them will remain throughout the year."
Madrigal said a vendor table costs $40 each Friday for a 10-by-10-foot spot.
Madrigal, who got his start at the market 19 years ago as a volunteer through Watsonville High, added that the market maintains a strong relationship with CalFresh.
The CalFresh Program, California's version of the Supplemental Nutrition Assistance Program (SNAP), formerly known as Food Stamps, assists low-income individuals and households to purchase nutritional food.
"If you are registered with Calfresh, for every $10 you spend, CalFresh matches that," Madrigal said. "That translates to around $500 every year of money that the market is giving to their customers through the state-funded program. Also this year Kaiser Permanente will be donating $5,000 for our match program next year. We will most likely do double-match incentives in May when we have more produce available for people."
Double-match means that if shoppers use $10 of their CalFresh monies, the market, through Kaiser, will give them another $20 during May. Madrigal said the CalFresh program is a way for federal monies to go to the state and then be spent locally.
Additionally, Madrigal said one big difference he sees in produce offered at the market from grocery stores is freshness. He said while many supermarkets aim for longevity of produce, like waxing apples for a better appearance, farmers markets typically don't maintain that profile, as most of the goods are harvested a day or two before they are sold.
"And, of course, the farmers market helps our local economy," Madrigal said.