WATSONVILLE—A cyber tip forwarded to the Watsonville Police Department landed a 25-year-old man in jail for possession and distribution of child pornography.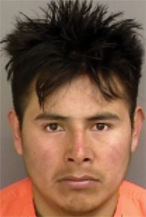 Tranquilino Gervacio was booked into the county jail and charged with a felony.
WPD Detectives launched an investigation after the Silicon Valley Internet Crimes Against Children Task Force (ICAC) sent information to WPD regarding a video posted online of a young girl being sexually assaulted by a man. The origin of the video remains unknown. The investigation led WPD detectives to Gervacio, who admitted to having and sharing it with others on a social media group.
Gervacio was arrested one week after ICAC forwarded the cyber tip on April 9.
The investigation is ongoing. Anyone with information is asked to contact Det. Nelson Hernandez at 768-3358. Refer to case No. 20W-01357.
The WPD is a member of the Silicon Valley ICAC Task Force, which is managed by the San José Police Department. For additional information and resources for parents and youth, visit SVICAC.org.