WATSONVILLE—About 150 people gathered at the City Plaza in Watsonville Sunday to stand in solidarity with the Black transgender community.
Rise Up! Act in Solidarity for Black Trans Lives was organized by local residents Alex Santana and Gabe Medina, along with local LGBTQ+ organization Pajaro Valley Pride.
The rally occurred amidst ongoing global Black Lives Matter protests that erupted after the killing of George Floyd by Minneapolis police on May 25.
Rise Up! spotlighted a community that activists have said is particularly vulnerable: transgender people of color. The Human Rights Campaign (HRC) reported that 26 transgender or gender non-conforming people were killed in the U.S. in 2019, the majority being Black trans women.
"We are here to stand with them," Santana said, "to shed light on injustices they face… [and] what they have done for the Queer community."
At 2pm Sunday residents began to line up along Main Street at the plaza, holding homemade signs and chanting "black trans lives matter" and "no justice, no peace."
The gathering then formed a circle and shared a moment of silence for lives lost. Santana invited people to the middle of the circle for an open mic. All donned protective masks.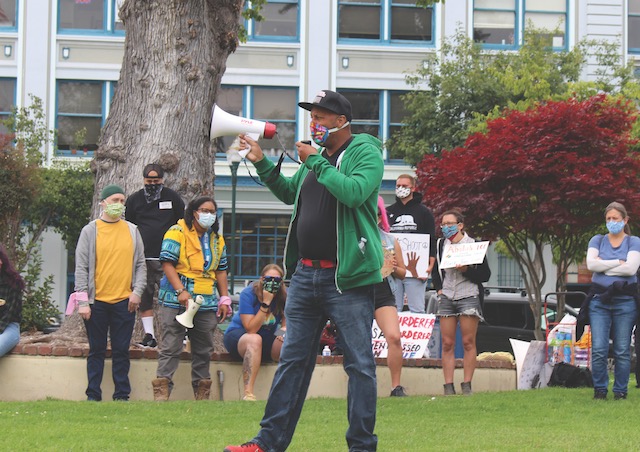 Some mentioned the contributions of Black trans folk in the modern LGBTQ+ rights movement such as Marsha P. Johnson, a prominent figure in the Stonewall uprising of 196.
"Without the Black trans community, we would not be here today," one protestor told the crowd.
The rally concluded with a march north on Main Street toward St. Patrick's Church and back.
One participant, who asked to be called Willow, said they were determined to keep up the momentum for the current civil rights movement.
"We have to keep fighting," they said. "We have to keep this going until real action is taken."