Marie Roberts was just 3 years old when she first started to dream of flying.
Born in Nebraska in 1928, Roberts watched her father install a large, multi-unit birdhouse in their home's yard. She was immediately transfixed.
"I looked up at those creatures and I started to imagine flying off at night with those birds," she said. "I thought, if only I could be up there with them in the air, I could do anything."
Roberts finally got her wish on Oct. 15, right around her 92nd birthday.
With support from a group of close friends (and an "OK" from her doctor), she embarked on a flight with GoJump Santa Cruz, a skydiving outfit that operates out of a hangar at the Watsonville Municipal Airport.
When asked what other people thought when she told them of her adventure, Roberts laughed.
"Well, my grandkids are excited for me… but my children think I'm crazy," she said.
Roberts is a longtime Watsonville resident. She was a teacher at Watsonville High School for years and married Wallace "Wally" R. Roberts, an Air Force pilot and hometown war hero who took part in numerous missions during World War II in his B24 Bomber.
In fact, Wally was the reason why she ended up in Watsonville in the first place.
Right out of high school, Roberts enrolled at UC Los Angeles to study science, against the wishes of her father. Without her family's financial support, she had to work her way through the first year of university.
"My dad thought I was wasting my time," she said, "but I ended up loving every minute of it."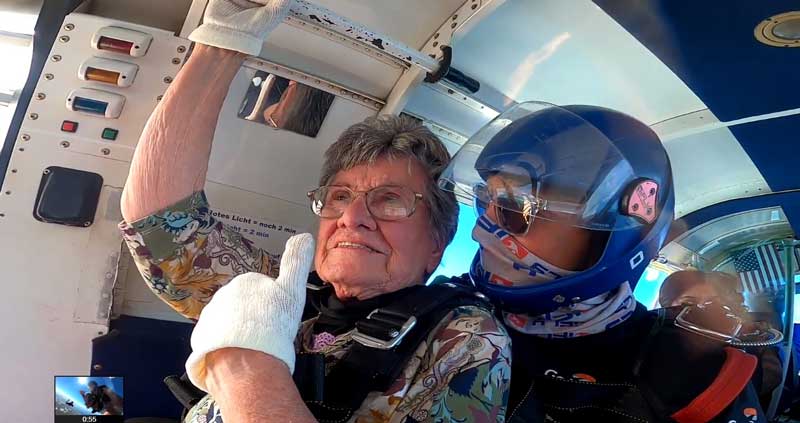 One day, she took a drive north to visit her sister, who was living in Watsonville at the time. It was there that she met Wally, who took her up in a small plane for an exciting flight over the Monterey Bay.
"He was a total show-off, doing all these tricks and maneuvers, and I immediately fell in love," Roberts said. "I went back home and told everyone… that is the man I'm going to marry."
The couple did marry in 1948 and were together for 72 years before Wally died in 2019. They went on flights together all over the world, any time they could.
"I do wish that Wally had been here to see me do this," she said. "He actually didn't like the thought of jumping out of a plane—he liked flying, not falling. So this was something only I would do."
Roberts described her skydiving experience as "a dream of a lifetime."
"I've lived such an exciting, eventful and entertaining life… but I really think the climax of it was that free fall into the sky," she said.
Roberts hopes her adventure inspires other seniors to embrace and appreciate the time they have on earth.
"I hope this is an incentive for other older people," she said, "That they don't have to go out of life not doing the things they really want to do."