WATSONVILLE—Hector Quiroz is making up for lost time—and holidays.
The 51-year-old Watsonville resident said he lived in a group home from sixth grade through high school. That meant Halloween and Christmas—the two holidays many kids look forward to the most—were muted experiences.
"My belief is that my childhood was robbed," he said.
Now, Quiroz celebrates Halloween with a scary enthusiasm. His house at the corner of Lincoln and E. 5th streets for the last six years has been draped with ghouls, witches, spiderwebs and ghost ships in celebration of the spooky, candy-packed holiday.
The setup takes roughly 10 hours of work. Along with hanging many creepy ghosts and skeletons, he also builds other hair-raising decorations such as a graveyard.
"The graves are my favorite. They're horrible for the grass, but I keep doing it each year," he said.
Quiroz said he has collected decorations for the better part of a decade and repurposes many from year to year. He spends an estimated $100 a year on spine-chilling trinkets, blowups and ornaments.
"It's for me, but I also do it for the community," he said. "They seem to love it—especially the kids."
He said his house is visited by more than 1,000 candy-starved trick or treaters, cloaked in a wealth of costumes, each year. Many like to hang around and soak in each piece of the display.
"Sometimes people will walk into my house thinking I'm putting together a haunted house," Quiroz said. "It's a fun day."
Just down the street, the Rios family carried on its yearly tradition of livening up the corner of Lincoln and Palm Avenue with its grand display of decorations, including a 7-foot-tall cloaked skeleton, a skeleton-covered gravesite and papel picado, a traditional Mexican paper cutout decoration used during cultural celebrations.
Most of their decorations are homemade, such as a drunken ghoul passed out on a table with bottles of beer and liquor spread around him.
"Those are the ones people like the most," said Jose Rios. "The adults get a kick with that one."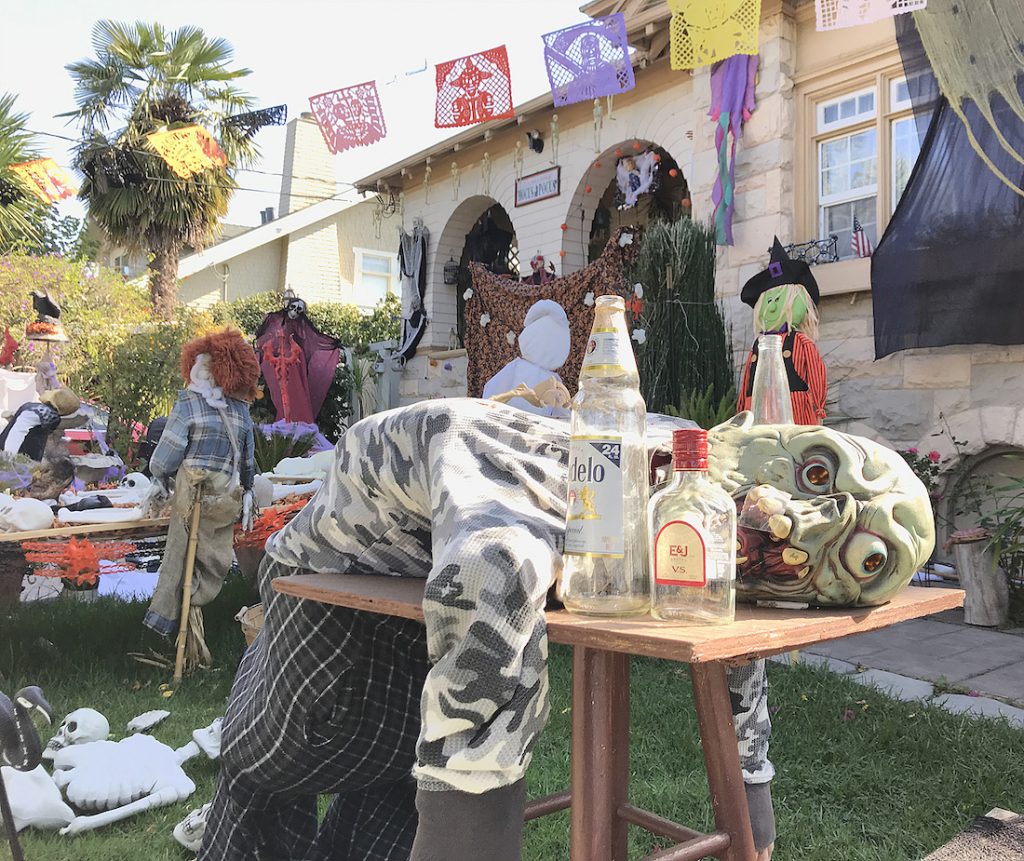 Rios said he works with his son, Sergio, to lay out the decorations. He estimated more than 1,000 people come by his house on Halloween night.
He bought eight giant candy bags from Costco this year to meet the demand.
"The line is around the block until late in the night," he said.
Rios said he was born in San Francisco del Rincón, Guanajuato, Mexico, but has picked up the traditional American holidays such as Thanksgiving and Halloween.
"It's a tradition here and this is our home now," Rios said. "We're here and we'd like to carry on the traditions here."
Peter Razo said he lives close to both houses and passes by during his daily walks. He said the decorations bring a smile to his face. His grandkids point out new parts of the displays each day leading up to trick-or-treating.
"It livens up the mood around here and brings out the Halloween spirit," he said. "It gets everyone in a good mood. That's important for this neighborhood."