WATSONVILLE — Bay Federal Credit Union's Senior Leadership Team was greeted by a pack of ancient predators today as they made their way inside the bank's branch on Freedom Boulevard.
As part of the credit union's annual Halloween decorating contest, employees had decked their workplace out with a "Jurassic Park" theme, based on the 1993 Stephen Spielberg film.
The bank was covered in handmade decorations, streamers and backdrops, with employees dressed up as different dinosaurs and characters from the popular film franchise.
"It all took about a month to put together," said loan officer Lupita Reyna. "Most of the setup was this week, though. We had some really late nights."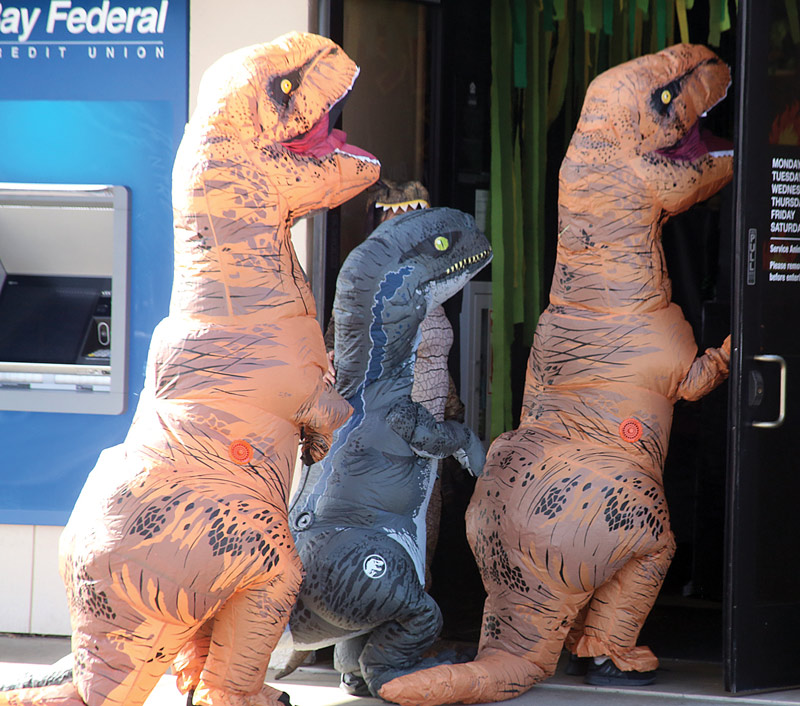 Employee Tania Morales, dressed as a velociraptor, was caged behind an "electrified fence," while a nearby coworker worked from a window designed to look like the movie's signature Jeep vehicles.
The Leadership Team, who had rolled up in a large white van dressed up in colorful unicorn costumes and t-shirts reading "Unicorn Squad," listened as a son of one employee gave a lesson on types of dinosaurs. Green dinosaur egg-shaped cupcakes were passed around.
"It's always a lot of fun for us," Reyna said. "It's a great time of the year."
•••
Photographs and descriptions of all Bay Federal Credit Union branches are currently being posted on the bank's Facebook page. Like, comment or share to vote for your favorite.