Watsonville High sophomore Katelyn Ruiz won the Gabilan Division title at the Pacific Coast Athletic League Cross Country Championships on Oct. 29.
She finished the 3.1-mile race at Palo Corona Regional Park in Carmel in 20 minutes, 31.2 seconds.
"I felt a little nervous because it's been a while since I raced with that big amount of people," she said. "I was talking to my parents and my coaches, and they reassured me that everything would be OK."
Ruiz captured her second league title in as many years after winning the Cypress title at Toro Park in Salinas in 2021.
Ruiz, who won all three center meets this year, started training with the boys' team this season and it's helped her tremendously.
Ruiz finished ahead of Carmel sophomore Ava Ghio (20:32), Hollister junior Kendra Melching (20:55), Rancho San Juan sophomore Gabriela Cardenas (20:57) and Carmel freshman Lila Glazier (21:11) to round off the top-5.
Ruiz said she started to pull away near the 2-mile mark but still knew she had to continue picking up the pace as the race went on.
"I knew that I had it after that," she said. "I always notice that people after a certain amount of time get tired, I'm usually stronger."
Watsonville senior Dahlia Barranco (21:31.60) took sixth, while fellow teammates Dennis Hernandez (21:31.60) placed eighth and Ana Ruiz (22:01) finished 13th to help the Wildcatz place third with a score of 59.
Carmel secured a 48-49 win over Hollister for the Gabilan Division team title.
The Wildcatz earned a trip to the Central Coast Section Cross Country Championships at Crystal Springs Course in Belmont on Nov. 12. The first race is set for 10am.
The top seven overall finishing teams from the four divisions based strictly on team times advanced to next week's championships.
Ruiz said she is following in the footsteps of her older sister, Layla, who set several records on both the cross country and track teams at Watsonville High.
Ruiz is nervous knowing that she'll be going up against the best runners in the section, yet, she's confident enough to say this could be her year.
"I feel like I might have it in the bag and I might be able to go to state this year," she said. "I put in a lot of work this season and maybe my team, we can all go together…that would be a really good experience."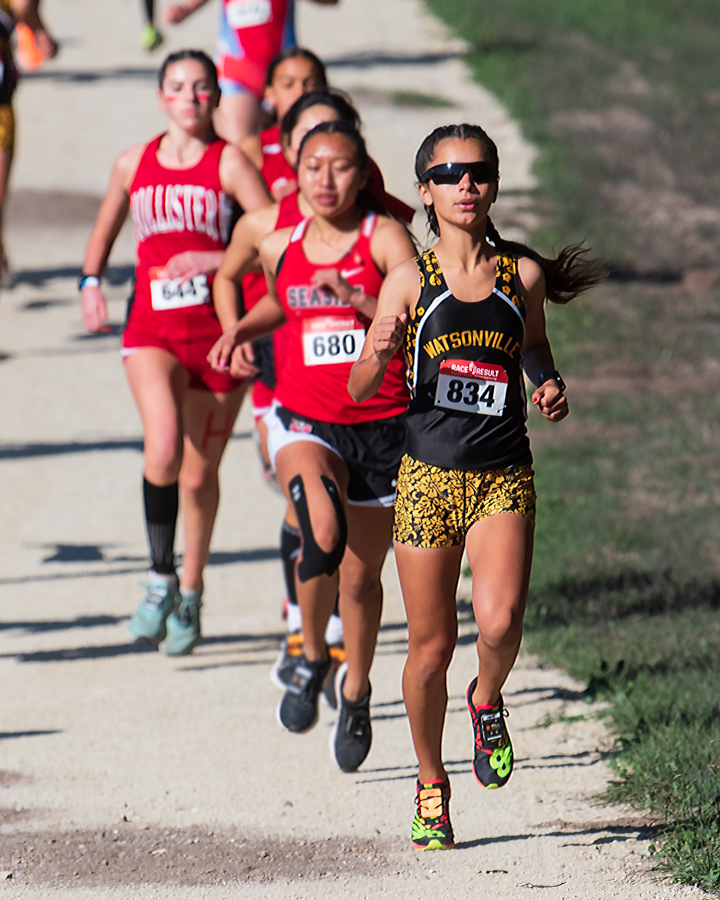 Mission
North Monterey County High sophomore Nadia Anastacio (21:54) led a pack of Condors across the finish line, placing fifth overall in the team's 33-92 Mission Division title-clinching decision over runner-up Alvarez.
"I know they were the favorite to win the league," NMC coach Francisco Cornejo said. "But in the league race they put it together where they had the best race of the season, so far."
NMC junior Melissa Macias (22:16) took seventh, followed by Valeria Pio-Pahua (23:23; 12th), Zoe Delgado (23:40; 14th), Marialba Diaz-Perea (23:53; 17th), Cynthia Godinez (23:59; 18th) and Natalia Tapia San Miguel (24:37; 22nd).
"Throughout every week they've been getting better and better," Cornejo said. "It's nice to see they've been putting it together, every center meet they work together and they ran as a pack."
The Condors earned a CCS berth and are ranked No. 4 in the Division IV race, which is slated for 10am.
Cornejo said the goal this season has always been to qualify for a CIF State berth. He knew the girls would be competitive in league meets but he was surprised at how fast they improved in such a short time.
"They'll probably be surprising some people at the CCS level," he said. "If we don't have the team, we'll probably have at least one or two individuals that have a shot to make it to state."
Monte Vista Christian senior Caelan Gilliam (21:19.20) took third and teammate Kylie Brunelli (21:34.90) placed fourth to qualify for the CCS finals.
MVC coach Michael Lanham said he believes Gilliam is having the best season of her four-year career with the Mustangs.
"She's raced smarter, she's raced faster this season than I've seen her before," he said.
Lanham said that Brunelli is coming off an injury that set her back two weeks during the season.
Brunelli made her return at the Crystal Springs Invitational on Oct. 8 and was up to speed the minute she hit the course.
"The wings were already on the shoes," Lanham said.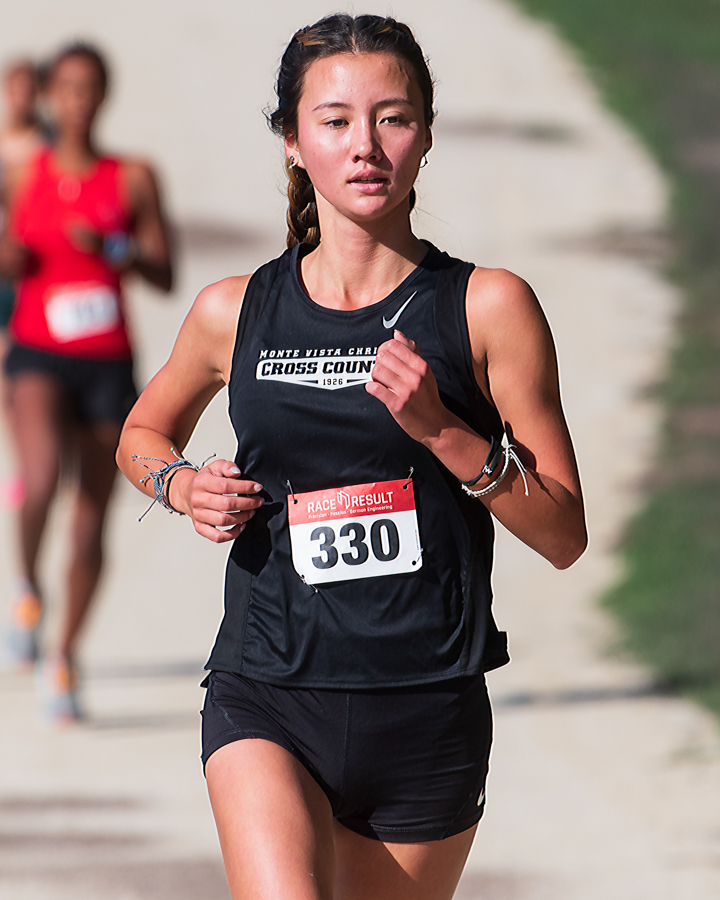 Santa Lucia
St. Francis' Yasmin Salas (24:28) won the Santa Lucia Division race, and teammate Claire Burke (26:14) was fourth.
Ceiba won the Santa Lucia team title with a score of 15. Ana Juarez (30:10) placed sixth to lead the Spartans, who was the lone complete team within the division.
CCS Girls Cross Country Championship
Where: Crystal Springs Cross Country Course
Address: 2567 Hallmark Drive, Belmont 94002
When: Nov. 12
Division IV, 10am
Division V, 11:10am
Division I, 12:20pm
Division II, 1:30pm
Division III, 2:40pm