WATSONVILLE—Watsonville High senior Xitlali Montesino was faced with a difficult challenge of having to compete against some of the best teams in the grueling Pacific Coast Athletic League Gabilan Division this season.
However, the standout Wildcatz guard was more than up to the task following a stellar year on the court and earned all-league first team honors.
The coaches within the Gabilan Division recognized Montesino who finished with an average of 14 points, 7.9 rebounds, 3.7 assists and 3.9 steals in 23 games played this season, according to the MaxPreps website.
She led the 'Catz to back-to-back road victories against Carmel and Salinas on Feb. 9 and 11, respectively.
Montesino also had help from fellow senior teammate and rebounding machine Kaylani Trout-Lacy, who earned all-league second team honors for her average of 9.5 rebounds per game.
Both players kept the 'Catz–who finished 2-8 in league play–in most of their contests this season including a 51-47 loss to North Salinas in the Gabilan Division opener and a heartbreaking 51-48 loss to Hollister.
Gabilan Division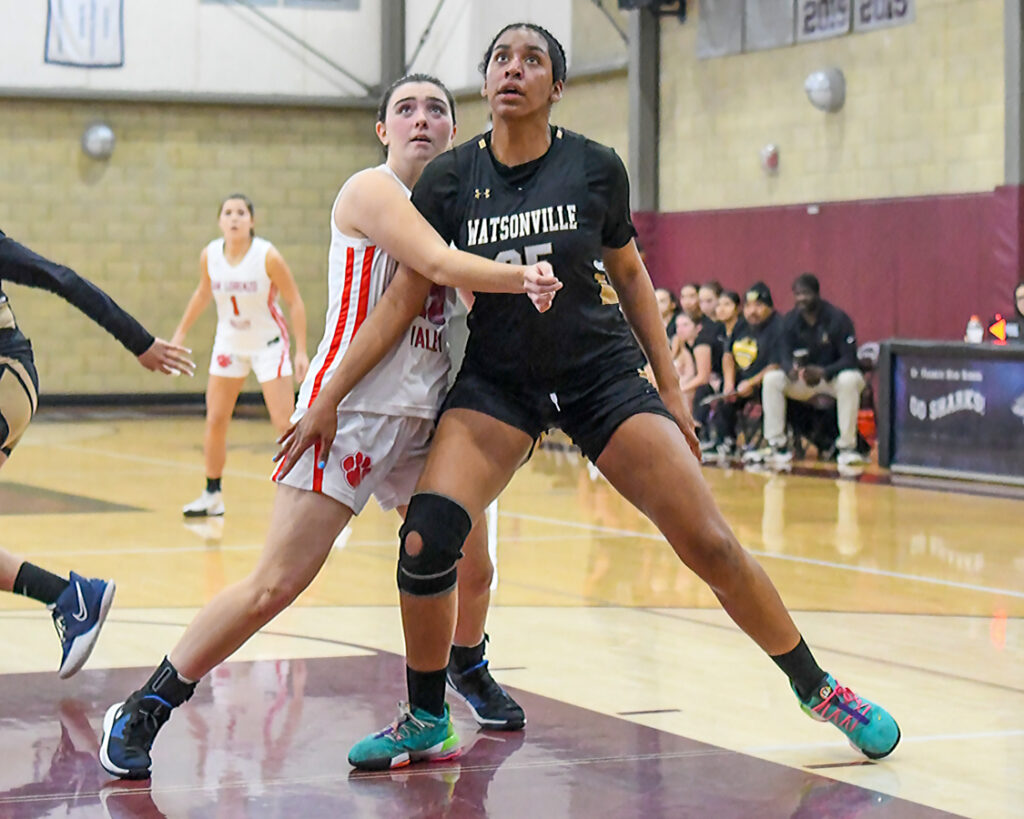 Individual Awards
Most Valuable Players: Bailey Cotter (Jr.), Hollister; Daeja Hollands (Sr.), North Salinas
Defensive Player of the Year: Lesly Rodriguez (Jr.), Alisal
First Team
Lesly Rodriguez (Jr.), Alisal
Bailey Cotter (Jr.), Hollister
Jocelyn Alexander (Sr.), Hollister
Daeja Hollands (Sr.), North Salinas
Dalilah Ruano (Jr.), North Salinas
Xitlali Montesino (Sr.), Watsonville
Second Team
Yulissa Alvarez (Jr.), Alisal
Delaney Castagna (Sr.), Carmel
Emmia Rivera (Sr.), Hollister
Dominayah Black (Sr.), North Salinas
Ashley Yu (Sr.), Salinas
Kaylani Trout-Lacy (Sr.), Watsonville
Richard Chamberlin All-Sportsmanship Team
Nayeli Gil Silva (Fr.), Alisal
Lily Grundy (Jr.), Carmel
Gracie Skow (Sr.), Hollister
Anahi Montalvo (So.), North Salinas
Marley Panziera (Sr.), Salinas
Samantha Rubio (Sr.), Watsonville
Mission Division
Individual Awards
Most Valuable Player: Ava Marshall, Pacific Grove
Offensive Player of the Year: Melanie Martinez, Pacific Grove
Defensive Player of the Year: Mia Henson, Monterey
First Team
Izbella Ibarra, Alisal
Makayla Rader, Monte Vista Christian
Mia Henson, Monterey
Ava Marshall, Pacific Grove
Melanie Martinez, Pacific Grove
Sydney Clymo, Stevenson
Second Team
Jasmine Encallado, Alvarez
Sophia Cortes, Monte Vista Christian
Gianna Herrera, Monte Vista Christian
Aveena Ducusin, Notre Dame-Salinas
Savannah Hardy, Pacific Grove
Alex Dalhamer, Stevenson
Richard Chamberlin All-Sportsmanship Team
Angela Ayozie, Alvarez
Rhazelle Gonzales, Monte Vista Christian
Eva Rossi, Notre Dame-Salinas
Shayla Sanchez, Pacific Grove
Anouk Catania, Stevenson
Cypress Division
Individual Awards
Most Valuable Player: Arianna Villagomez (Sr.), Greenfield
Offensive Player of the Year: Latai Matelau (Jr.), Greenfield
Defensive Player of the Year: Valeria Segura (So.), Soledad
First Team
Latai Matelau (Jr.), Greenfield
Arianna Villagomez (Sr.), Greenfield
Julia Mendez (Sr.), King City
Ahsani Collins (Sr.), Seaside
Norma Tulua (Jr.), Seaside
Valeria Segura (So.), Soldead
Second Team
Yasmin Avalos (Jr.), Greenfield
Jimena Hernandez (Sr.), Greenfield
Sage Flores (Sr.), King City
Johana Alonzo (Jr.), King City
Kasandra Lopez (Jr.), Soledad
Katherine Amaro (Jr.), Soledad
Richard Chamberlin All-Sportsmanship Team
Lesley Santiago (Jr.), Greenfield
Vanessa Potts (Sr.), King City
Kayleen Flores (Sr.), North Monterey County
Kamala Encinias (Sr.), Seaside
Aaliyah Gonzales (Sr.), Soledad
Samantha Orradre (Sr.), St. Francis
Elgie Bellizio Team Sportsmanship Award: St. Francis
Santa Lucia Division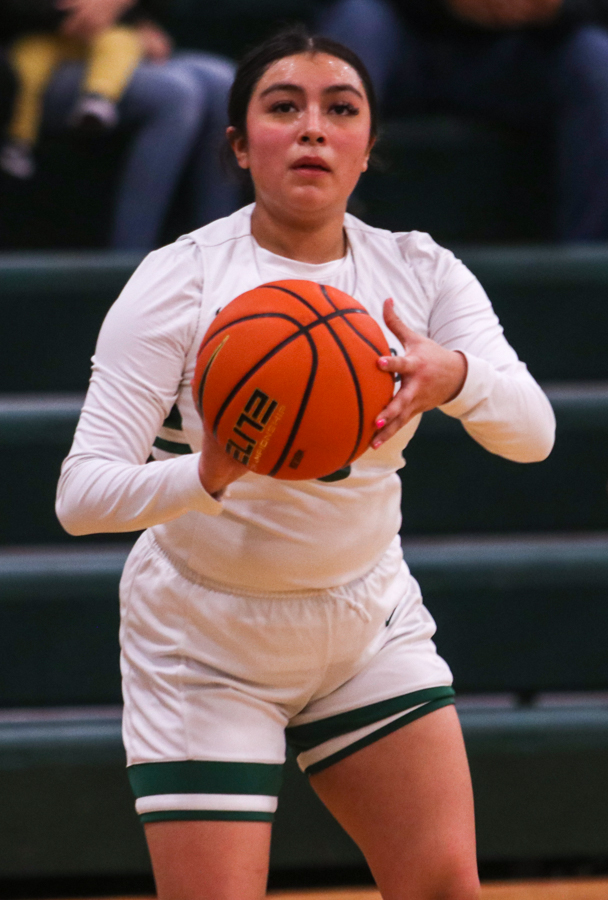 Individual Awards
Most Valuable Player: Jayna Schalesky, Rancho San Juan
Offensive Player of the Year: Angelina Navarro, Gonzales
Defensive Player of the Year: Kristina Aceves, Rancho San Juan
First Team
Imaya Phillips, Rancho San Juan
Jayna Schalesky, Rancho San Juan
Angelina Navarro, Gonzales
Celeste Camarena, Gonzales
Annel Andrade, Pajaro Valley
Kristina Aceves, Rancho San Juan
Second Team
Erika Nunez, Rancho San Juan
Margaret Spencer, Santa Catalina
Alexa Mendez, Gonzales
Ellen Than, Pacific Collegiate School
Malak Ahwal, Pacific Collegiate School
Brianna Hernandez, Pajaro Valley
Richard Chamberlin All-Sportsmanship Team
Daja Moreno, Rancho San Juan
Angie Ybarra, Gonzales
Zoe Allen, Santa Catalina
Addie Payne, Pacific Collegiate School
Giselle Quintero, Pajaro Valley
Elgie Bellizio Team Sportsmanship Award: Santa Catalina
Arroyo Division
Individual Awards
Most Valuable Player: Quincy Key (Sr.), York
Freshman of the Year: Brooke Alden (Fr.), Kirby
First Team
Quincy Key (Sr.), York
Asya Wilson (Fr.), York 
Piper Shankle (So.), Anzar 
Kailee Barlics (Fr.), Oakwood 
Brooke Alden (Fr.) Kirby 
Coral Garcia (Sr.), Ceiba 
Second Team
Maya Brent-Nurse (Sr.), York
Myra Khieu (Sr.), York
Madysun Roderick (Sr.), Anzar
Ella Gutierrez (So.), Oakwood
Lucia Nakashima (So.), Kirby
Flor Zepeda (Sr.), Ceiba
Richard Chamberlin All-Sportsmanship Team
Anahi Martinez (Jr.), Anzar  
Alondra Valdes (Sr.), York 
Caitlin Taylor (Sr.), Kirby 
Sian Holter (So.), Oakwood 
Katrina Lomeli (So.), Ceiba
Elgie Bellizio Team Sportsmanship Award: Kirby