Countryside and coastal towns have plenty to offer
Note: This is the first in a multi-part travel series covering parts of England, Germany and the Netherlands.
ENGLAND, U.K.—On New Year's Eve 2008 I flew overseas for the very first time.
My sister was working in London, and invited my family and I to stay with her for a week in the city.
While there I visited my college friend Kim, who I'd met the previous semester. She'd been studying abroad through an exchange program.
Until last month, I had not seen Kim since.
Arriving in London on September 25, I caught a coach bus to Milton Keynes, where Kim rents a small home with her fiancé.
(Tip: English coach buses are often cheaper than trains.)
Milton Keynes is about 50 miles northwest of London. It was only incorporated in the 1960s, but the region hosts plenty of history, including nearby Bletchley Park, the site of the world's first programmable digital computer. Codebreakers like Alan Turing worked from the estate during World War II.
After spending the first night at Kim's house, we headed to the coastal town of Whitby, driving winding roads through the North York Moors, an area of low, expansive green hills. It was steadily raining, adding an eeriness to the scene.
"You're definitely getting the full Yorkshire experience," Kim laughed.
We stopped in Goathland, a small village littered with sheep. We window-shopped and ended up at Goathland Tea Rooms, enjoying a steaming pot of Yorkshire Tea and homemade scones with jam and clotted cream.
(Yorkshire Tea is the best tea I've ever had; I used up suitcase space to bring some home.)
Whitby is beautiful and enchanting. Two lighthouses beckon vessels in from the North Sea to the town, which is situated around the mouth of the River Esk. Cobbled streets twist up and down, back-and-forth. And on the eastern cliffs sits Whitby Abbey.
Originally a 7th-century monastery, Whitby Abbey is a site to behold. We had to hike up some very steep stone steps to get there—but seeing the amazing ruins and sweeping views was worth it. As a literary junkie, I was excited to learn that it was featured in Bram Stoker's 1897 novel "Dracula."
Since Whitby is a tourist destination, accommodation is pricey. So Kim made reservations just south in Scarborough. We stayed at the Green Gables Inn, situated at the dead end of a residential street.
Being at the Green Gables Inn was like spending a night at the Winchester Mystery House. The giant hotel, with its turrets, staircases of all sizes and countless doors, was often confusing to navigate—but definitely added to the experience.
Our night in Scarborough had us walking through neighborhoods to local pubs. We were enjoying a delicious porter at the first pub when a loud voice from the bar caught our attention. A man, dressed in head-to-toe white, was enthusiastically discussing his crush on Jessica Rabbit from "Who Framed Roger Rabbit?"
We guessed he had been at the bar for quite a while.
At the second pub, the amusingly-named Stumble Inn, we had a long chat with a friendly middle-aged couple.
"Excuse me," one of them asked kindly, "but… what are you doing here?"
At that moment, I knew I was traveling right. In London, no one would bat an eye at an American. I was somewhere most tourists don't go, and it felt great.
The next morning we had a complimentary English breakfast at the hotel before setting off to our next destination: York.
York, England was founded by the Romans in 71 AD. The city has remnants of Roman, Viking and medieval history. Clifford's Tower, once part of York Castle, stands tall upon a mound in the middle of town. York Minster, the city's cathedral, also remains—still acting as the "mother church" of the province.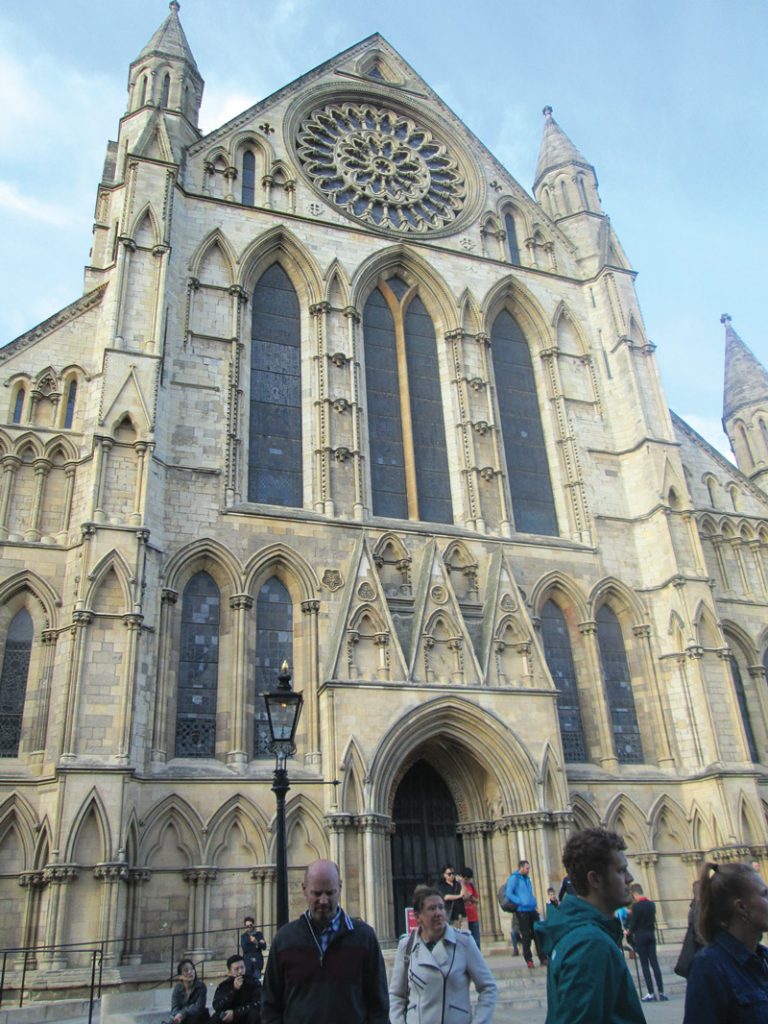 Kim, who went to school in York and knew her way around, led me on a 2-mile walk along the city's beautifully preserved, ancient walls. We also strolled through The Shambles, a narrow section of York with uneven ground and buildings that bow out over the street.
(Fans of J.K. Rowling's "Harry Potter" will recognize The Shambles as the inspiration for Diagon Alley, the street where witches and wizards buy their magical supplies.)
In our final hours in York we happened upon the York Food & Drink Festival. Booths sold everything from Asian dumplings to homemade fudge; we ate enough free samples to satisfy our growing hunger.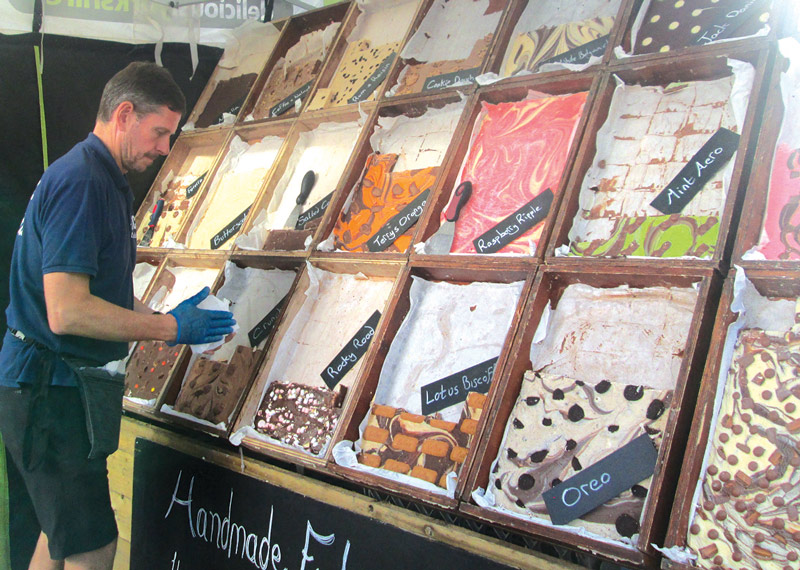 York seamlessly works in modern amenities alongside its deep history. New businesses line cobbled streets, and swanky bars occupy aging buildings.
We decided to try out one such bar called The Evil Eye. After snagging ourselves a window seat upstairs, we ordered drinks and settled in.
As I watched throngs of locals and tourists navigating the twisting avenues below, I realized how grateful I was to finally be with my friend again, in such an incredible place.
And the adventure had just begun.
•••
For part 2 of this travel series go to https://pajaronian.com/mapping-out-stories-in-england/.