WATSONVILLE—In the days leading up to the first countywide economic shutdown, Lona Martinez thought the possibility of a mass closure was a rumor sparked by those looking to scare the public.
"I thought it was a bunch of hype," she said. "And then it happened…it was so sudden."
Martinez, the owner of Lacquer Beauty Lounge on Brennan Street, said that she was more mentally and emotionally prepared for the most recent closures enacted on Tuesday.
"But it still hurts—it's still a scary time," she said.
Martinez and the rest of Watsonville's personal care industry (barbershops, beauty salons, skin care, cosmetology, nail services and massage therapy, among others) had to shut their doors for the second time after Santa Cruz County spent its third day on the state's so-called Monitoring List Monday.
Gyms, places of worship and shopping malls also had to close their indoor services because of the recent surge in Covid-19 cases throughout the county—there have been more than 390 new cases identified in the last 14 days, pushing the county past the state's threshold of 100 cases per 100,000 people.
The economic restrictions will remain in place until the county notches two weeks below the state's threshold. That means those businesses—many of them small, mom-and-pop shops—will be closed until at least mid-August.
Some, Martinez said, will never get the chance to open their doors again.
"You're never really prepared to have your source of income ripped away," she said. "I've been in this business for 23 years….I know a lot of people that barely made it the first time, and I'm afraid that some of us are not going to make it this time."
OPENING OPTIONS
Watsonville City Manager Matt Huffaker in early June signed an emergency order that allowed businesses to move their operations outdoors to sidewalks and parking lots—both private and public—but the program has seen a lukewarm response over its first two months.
Watsonville Community Development Department Director Suzi Merriam said six restaurants have applied for and received the free permit for outdoor dining. Businesses in the personal care industry can also apply for the permit, but none had taken the city up on its offer as of Thursday.
Most personal care business owners were skeptical about operating outdoors and wary of the price tag associated with making the move after spending hundreds of dollars to meet previous reopening criteria.
Rigo Navarro, the owner of Clip Joint Barber Shop on East Lake Avenue, said it would cost between $500-1,200 for the equipment needed to operate outdoors.
"It's not out of the question, but it's another cost that we'd have to cover," Navarro said.
Martinez said she spent roughly $1,000 to buy masks, face shields, air purifiers, plastic barriers and disinfectant to meet the strict requirements needed to reopen in early July. She said moving her nail salon's operations outdoors would cost roughly the same amount—if not more.
She said it would also be a tricky task because nail polish, her top product, would be negatively affected by sunlight. She also said conducting business outside would create an unsanitary and unpredictable environment for her customers.
"For us, we take pride in our cleanliness and in offering our clients a safe environment," she said. "Moving outside makes that almost impossible."
Lindsay Pozzi, the owner of Hair We Are on Brennan Street, said the move outdoors is not realistic for many in her industry. Roughly 80-90% of her clients visit her salon for a color or chemical-based treatment, something that is not allowed outdoors under the state cosmetology guidelines.
"The weather, the restrictions, the cost. It makes no sense for us to move outdoors," she said.
Businesses without parking lots will, too, be out of luck, as most sidewalks in the city are not wide enough to allow for outdoor services. Most parklets, Merriam said, are also off-limits, as property owners would need to fork up the cash needed for "significant" improvements and other permits.
"Which just doesn't make sense right now," Merriam said.
Some neighboring cities have gone a step further and shut down sections of streets to allow restaurants and retailers to spill out onto the roadways in hopes of sparking a business resurgence. Watsonville's City Council will weigh similar closures in August at its first meeting back from its summer recess, according to Mayor Rebecca Garcia.
FINANCIAL HELP
The Watsonville City Council in late April approved the use of $130,000 in federal funding for a microloan program dedicated to small, local businesses. That cash, however, is tapped out, and the city and its businesses are now hoping the federal government will provide further assistance in the coming weeks.
Pozzi said she applied for both local and federal assistance, but missed out on the city's program and did not qualify for the Paycheck Protection Program—a federal loan program from the Coronavirus Aid, Relief and Economic Security (CARES) Act.
She, like many sole proprietors early in the pandemic, had to hold out for a few weeks before she could apply for unemployment benefits. In that time, she picked up a minimum wage job at Nob Hill and also delivered groceries for companies such as Shipt and Instacart to pay her monthly bills and her children's school tuition.
"I couldn't sit around," she said. "I had to support my family."
She eventually did get unemployment. She said she received $150 a week from the state's Employment Development Department, and an additional $600 from the federal government, a part of the CARES Act that expires today.
There have been talks at the federal and state level of continuing that $600 benefit, but nothing has been passed as of Thursday.
Pozzi said she would reapply for unemployment, but that without the federal benefit she might be better off returning to a minimum wage job and side gigs to pay her monthly bills.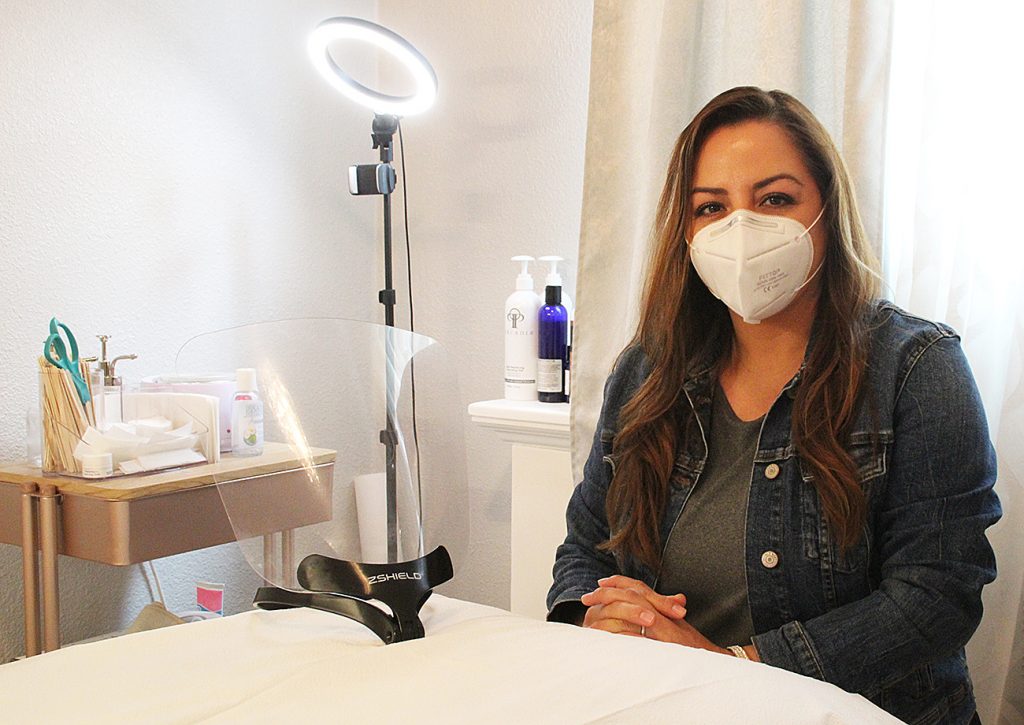 Julie Ponce of Tayo Day Spa, which offers facials, waxing and massage services, among other things, also did not qualify for federal assistance from the CARES Act. She did apply for and receive unemployment, and said she would reapply now that her business has been closed.
She, too, worried about the loss of the $600 federal benefit but said her business would most likely survive the current shutdown because she has an "understanding and incredible" landlord and other family members with a steady income.
That won't be the case for others, she said.
"Luckily, my husband has a business but other people might not have that luxury," she said. "There are going to be people that are going to have to give up their business and say, 'forget this, I need to get a job.'"
CASE-BY-CASE
When businesses first closed in April, Ponce and her four co-workers at the Brennan Street spa attended every webinar concerning the reopening process. And they scoured the internet for the equipment they needed to make their spa as safe as possible—for themselves, their families and their clients.
They followed all the guidelines. They wore medical scrubs. They performed temperature checks. They limited the number of people allowed through the door per day to properly disinfect their tables between clients. And they held off on reopening until they got their hands on rare face shields specific to estheticians.
"We went above and beyond the first time, because we wanted to be safe," she said. "We did everything they wanted us to do—we took all the precautions—and we still had to close. It's frustrating."
Ponce, Pozzi and Martinez said they are all convinced that if county health inspectors stepped foot in their businesses, they would be blown away by the precautions they're all taking.
"It doesn't seem fair," Pozzi said. "They're lumping everyone in the same pot."
That trio said that the county should instead determine whether a personal care business needs to shut down on a case-by-case basis. But Santa Cruz County spokesman Jason Hoppin said that decision is out of county health officials' hands and lies solely on state leadership.
Martinez pointed out that the recent rise in cases in Santa Cruz County has not been attributed to the personal care industry, and that it is unfair that those businesses have—and will continue to—bear the brunt of the Covid-19 pandemic.
Pozzi said either the city or county should create a temporary commission or task force that advocates for and informs the businesses in the personal care industry. She hopes that will help local governments understand the challenges the industry is facing.
"Until then, nothing is going to change," she said. "Until then, the beauty industry is going to continue to suffer in Watsonville. People are going to lose their businesses. People are going to lose a lot—maybe everything they have."