Dr. Leonor Xóchitl Pérez was 12 years old when she first played mariachi.
It was 1973, and her school in Southern California had just created the first school-based mariachi program in the state's history.
The music stuck with Perez. When she was 18, she was accepted for an internship in Washington D.C., where playing mariachi helped pay her bills. It continued to be part of her life through receiving a Master's at Harvard, a PhD from UCLA, and years of working in education administration.
"I never stopped playing … I never really let go," she said. "I have felt firsthand the empowering experience of mariachi. I've seen it serve as a catalyst for opportunity."
Perez is the founder, and current executive and artistic director of the Mariachi Women's Foundation (MWF), a Los-Angeles based nonprofit aimed at empowering women and girls throughout the world by highlighting their talents in concerts and festivals, and raising awareness of the important contributions women have made to the tradition.
On May 28, MWF will bring two acclaimed mariachi groups to Watsonville for a performance at the Henry J. Mello Center. The concert will feature Mexican, American, traditional and contemporary music by Grammy award-winning band Mariachi Divas de Cindy Shea, and the all-female trio Ellas.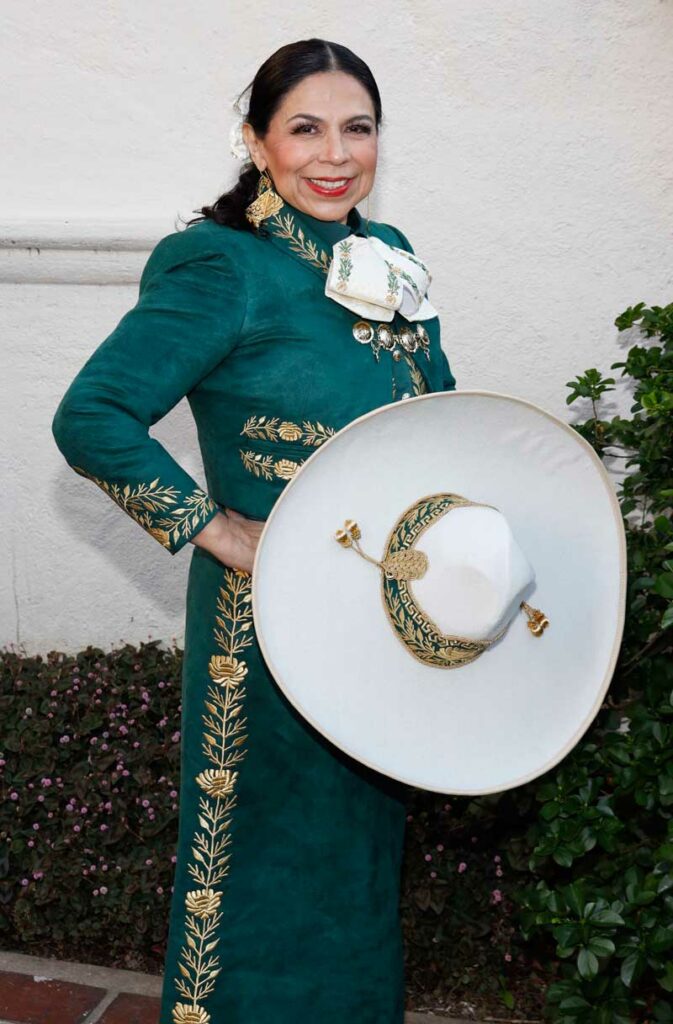 The show is part of MWF's annual concert series, Mariachi Women Warriors, which will start at the Hammer Theater in San Jose and continue at a theater in Tracy before culminating at the Mello. This is the first time the series is touring Northern California.
"I want to share with other women how important this tradition is," Perez said. "There are more girls than boys playing mariachi in schools across the country. But after high school they drop out. It becomes only male mariachis … But women have been an important part of the tradition for over 100 years."
Mariachi Divas was formed in 1999 by Cindy Shea. They are the official mariachi of the Disneyland Resort, have performed at the Mariachi USA Festival, the Hollywood Bowl and have been featured on television, film and radio.
Ellas began their musical journey as mariachis and evolved by blending it with contemporary music. The trio have earned Grammy nominations and awards in their individual careers.
Mariachi Women Warriors first began as an exhibit in Southern California and a one-off concert. However, Perez said, it was received so well that she knew she had to continue.
"Not a lot of people know about women's place in this tradition," she said. "A lot of people probably don't even know what mariachi women groups sound like. One of our goals is to expand the work we've been doing. To bring it to new places."
Perez's partner, Richard, is originally from Watsonville. After learning more about the community, she decided to include the city on the tour.
"I did research on the status of Latina women in Watsonville," she said. "I was so shocked and saddened to see the disparities. They're much greater than Latinas in many other counties. I thought, gosh, I would love to do a concert there. It seemed like a really good place to make an impact."
Perez was also inspired by the fact that one of the very first women to play in a professional, high-level male mariachi group was from Watsonville: Laura Sobrino.
"I met her in Southern California … She was an amazing musician, an excellent teacher," Perez said. "It's interesting how it's come together to her hometown."
MWF has also partnered with Watsonville Film Festival (WFF) to present three films prior to the concert. The films will be available to stream online May 16-25 at watsonvillefilmfest.org, and a virtual conversation with Perez will be held May 24 at 6:30pm.
"Working in tandem with the foundation, we curated a film program that honors generations of women playing this iconic Mexican genre that has been dominated by men," said WFF Executive Director Consuelo Alba.
The lineup includes: "Compañeras," an intimate profile of America's first all-female "show" mariachi group, Mariachi Reyna de Los Ángeles; "La Mariachi," a short documentary about Veronica Robles, singer and founder of Boston's First All-Women Mariachi band; and "Mariachi Estrella," which tells the story of Mariachi Estrella of Topeka, the first all-female mariachi band in Kansas who was among the earliest all-female mariachi bands in the U.S.
"It's been a great experience collaborating with the Foundation to present this special program," Alba said. "We're excited and honored to be part of it."
Perez said she hopes the event will inspire young girls, women and their families.
"I hope they can be encouraged by the fact that a lot of the women who are going to be performing … many of their parents are immigrants, and have gone to public schools," Perez said. "Some have other careers and still play mariachi, which is amazing. We want them to see, here they are, playing in a male tradition. How they've managed to find a space and a way of defining themselves."
To learn more about the Women's Mariachi Foundation and to order tickets for the May 28 performance, visit mariachiwomen.org.