WATSONVILLE—The past three years haven't been too kind for St. Francis High senior Seth Vazquez, who has had to battle his way through injuries and a rough start during his freshman year.
But the veteran outfielder has been more than clutch this season for the Sharks baseball team, including during Tuesday's pivotal meeting against Alisal High.
Vazquez hit a decisive two-run double late in the game that helped lift St. Francis in a hectic 13-12 win against the Trojans in Pacific Coast Athletic League Mission Division play.
With the win, they captured their first outright championship since winning the Santa Cruz Coast Athletic League title in 2013.
"It means a lot to me," Vazquez said. "The last four years was what we worked for…we knew we'd be here eventually and that's what we were fighting for."
St. Francis coach Ken Nakagawa said their league title run was well deserved by the senior class including Vazquez, who endured a painful freshman season on a varsity team that finished 3-22 overall.
"For him, I couldn't be happier for that kid," Nakagawa said. "I just like the way that we battled and came back."
Senior pitcher Kai Price transferred to St. Francis when he was a sophomore. At the time, the program was struggling to get back to its winning ways.
Being able to bring back a league title to the school was special to him, Price said, especially seeing how the seniors went from zeros to heroes.
"It's kind of a Cinderella story, in a way," Price said. "It's awesome, I love everyone on this team."
St. Francis now has four overall league titles in the program's history, and their first championship since sharing the league title with San Lorenzo Valley High in 2016.
That year's Sharks roster featured three future Major League Baseball prospects in Ruben Ibarra (Reds), Sahid Valenzuela (Athletics) and Chase Watkins (Cubs).
Vazquez said this year's group has always had chemistry and the new transfer students provided some extra insight on the game.
"I think that made the difference, every year getting better," he said.
The Sharks drew first blood when sophomore Micah Cervantes scored after Alisal's catcher overthrew the ball to second base.
Price then hit a three-run blast to left field that extended the lead to 4-0.
Dez Litel continued the onslaught with a two-run double and ended up on third base after an errant throw was made to home plate. JR Ibarra's RBI single extended the Sharks' lead to 8-0 after the first inning.
"We came out with a lot of energy and we hit like we should," Price said.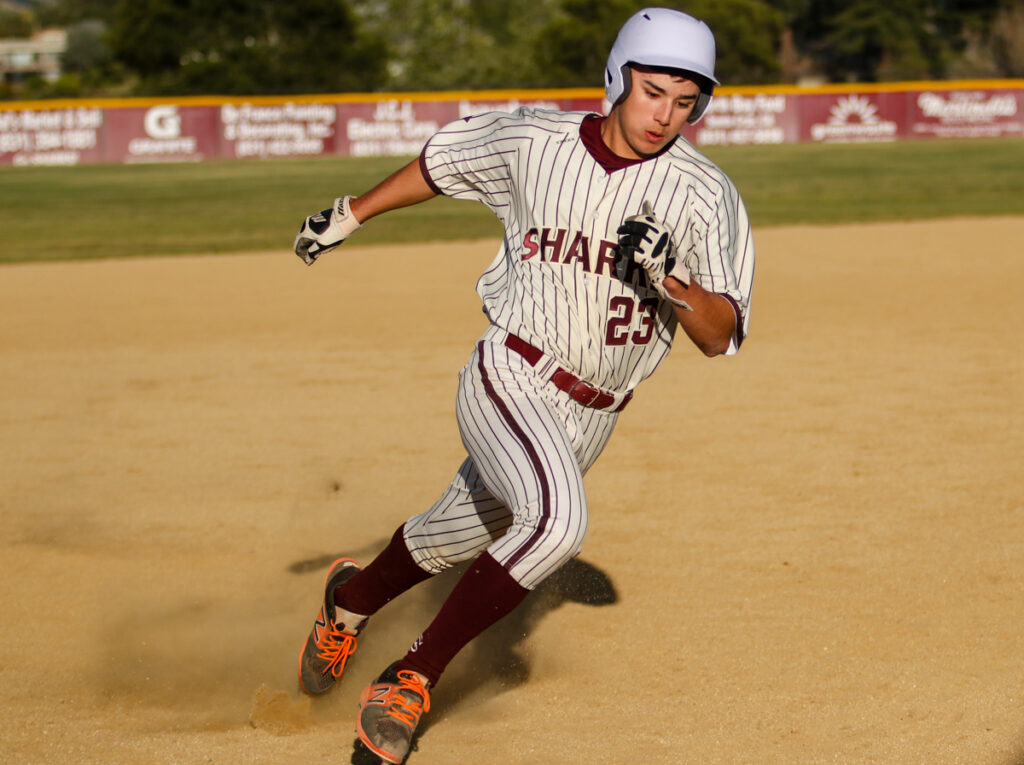 Price, who started the game on the mound, was also put up to the task of trying to contain a Trojan's offense that scored 175 runs this season, according to statistics entered on the MBayPreps website.
But his day on the mound ended early in the top of the second after he hit his second batter of the afternoon and gave up one walk with the bases loaded, allowing the Trojans to chip away at the deficit.
Nakagawa took out Price for freshman Javier Fonseca, who gave up three more runs in the third including a walk with the bases loaded that tied the score at 8-all.
It didn't take long for Nakagawa to make the switch from Fonseca for sophomore Trey Silva.
The Trojans again took advantage of the pitching change by capturing their first lead of the game and extended it to 10-8 with one more run in the fourth.
"It was kind of a wake up call," Price said. "We're playing for a league title, we can't slack. We can't keep playing like this, we gotta be ourselves and keep the energy up."
With their backs against the wall, Nash Horton led off the bottom of the fifth for the Sharks with a ground rule double.
Joel Mendoza followed up with a crushing base hit single to right field that drove in his teammate, cutting the deficit back to one. And a base hit RBI single by Miles Guardino tied the score at 10-all.
In the sixth, Vazquez came up to the plate with Price and Noel Aquino on first and second, respectively.
Vazquez, who had struck out earlier in the game, had a golden chance to deliver a big-time redemption hit. A crushing linedrive to center field did the job as his teammates cleared the bases for a pair of runs.
Shortly later, he reached home plate to give the Sharks a 13-10 lead going into the final frame.
"What was going through my head was to make it personal," he said. "I just wanted to get a base hit and the rest was history."
Vazquez said the original plan was to bunt and put it down the third base line. That all switched after he roped a ball that went foul.
"I figured, why not swing it?" he said.
Alisal scored twice in the seventh, but in the end it was Vazquez's three runs that made the difference en route to a win on Senior Day.
"To Alisal's credit, they battled back," Nakagawa said. "The main thing with us is our pitching has been really good all year for us. Today, we had a tough zone behind the plate. We walked some guys, they got a hit when they needed two."
Nakagawa said the goal this season was to stick to the old cliche of taking it one game at a time. So far, it's been working out for the Sharks.
"This is what they wanted, this senior group," he said. "We knew what we have, we knew that they were a special group and I'm sad to see them go. It means a lot that we're back on top."
The Sharks will have to wait to see who and what division they'll play in for the Central Coast Section playoffs, which begins with the quarterfinals May 21.
The CCS committee will hold a seeding meeting on May 18 at 3pm.